Long ago (err… 2014), tales of a new sex toy company swept through the blogging community. Legend said they had a vibrator called Rosa with a unique shape and vibrations powerful enough to wake up the most stubborn of bodies.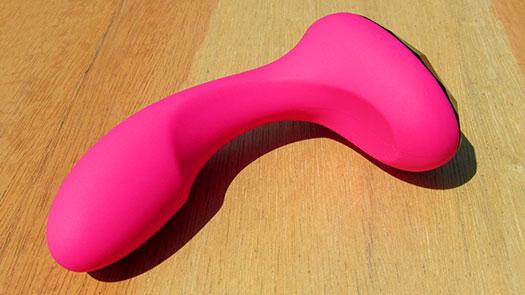 From the moment I first heard about the L'amourose Rosa, I knew one day I'd have to have it. And having recently fallen head-over-heels in love with its successor, the L'amourose Prism V, I've been even more curious about the Rosa and how it compares. So when L'amourose graciously offered to send me one for review, I was ecstatic.
One huge thing that I look for in a good vibrator is a wide range of vibration intensities. A toy can have the best damn vibrations in the world, but if it only has two or three intensity settings, I'm probably not going to love it. So the Rosa scores major points with me for not just having super strong, rumbly vibrations, but also 12 different power settings to work through.
This toy does so many things right in my book. Like, probably 90% of things. The vibrations are incredibly strong and rumbly, overpowering nearly every insertable vibe in my collection, with the sole exception of the We-Vibe Rave.
And the shape? That head does amazing things to my G-spot. It's the same shape I loved in the Prism V, but thicker, with a 1.5″ width to the Prism's 1.3″. I don't know what exactly it is about it, but Rosa's head honestly feels like it was made for my body. It slides into me and fits perfectly in place like a puzzle piece. With my Prism, I tend to thrust in and out, pressing down on the handle to target my G-spot. With this toy, I don't really thrust — the slightest movements and jiggles are enough
The head is also surprisingly broad for a G-spot vibe, which makes it awesome for me for clitoral stimulation, as a person whose legs instinctively close at the mention of pinpoint vibrations.
But the few things I don't like about the toy are annoying enough to keep me from calling it my favorite.
The base:
The L'amourose Rosa has a motor in each end, which vibrate both the vagina/G-spot and the outer vulva. That base motor feels like such a tease to me, almost vibrating my clit but not protruding enough to actually get there. And to make matters worse, it also blocks enough of my vulva to make using a separate clit vibe damn near impossible.
So I usually tend to begin masturbation sessions with the Rosa by using it internally, and then eventually I'll pull it out and finish with it on my clit. This works alright, though I find the chunky handle significantly less comfortable to hold than the more traditional, longer handles of other insertable vibes.
The base/handle being mashed up against my vulva also makes using this toy messy. It quickly gets coated in lube and vaginal fluids, which inevitably get all over my hands as I grip it.
I have heard great things about this base for perineal stimulation when the Rosa is used as a prostate vibe, but for vulva use, I'm not digging it.
The buttons:
The toy's three buttons — one plus, one minus, and one to change patterns — are located on the side of the base. They are small, coated with the same silicone as the rest of the toy, and difficult to find and press without looking (especially if your hands are already covered in lube).
But that's not my biggest gripe about the buttons.
By placing them on the left side of the base, L'amourose has created a toy that can really only be used if you're holding it in your right hand. Which is the opposite of how I generally masturbate. So I have two options here: train myself to masturbate backwards every time I use this one toy, or masturbate normally and quickly switch hands every time I want to change settings. Both feel awkward. This is not ideal.
The "Flex and Shift technology":
If you read any product description for the L'amourose Rosa, you'll see mention of its "Flex and Shift" technology, which is really just a proprietary way of saying that the neck of the toy is flexible. This may be a selling point for some people, but it's not for me.
As I mention in a lot of my reviews, I like (and need) pressure on my clit. I jam vibrators into my body like I'm trying to shove them through to the other side. And it's very hard to get the pressure I want when the Rosa's shaft just bends away as I push down.
The best solution I've found is to press the tip against my clit and then just flatten the rest of the neck against my body, but then that doesn't allow for movement, which is also something I like to do with clit vibrators. Again — not ideal, at least for me.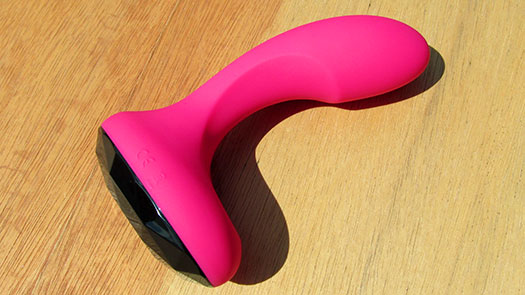 The L'amourose Rosa is a damn good sex toy, and as far as strength and rumbles go, it's at the top of its class.
However, as the Prism V still fits my own needs better and has a more affordable price tag, it remains my personal favorite and most highly-recommended vibrator.
---