A rabbit vibrator I actually LIKE? It's a goddamn miracle. Here's my review of the Fun Factory Miss Bi!
Where To Buy:
Other Toys Mentioned:

When the nice folks at Fun Factory sent me the Fun Factory Miss Bi for review, they also hilariously included a small army of tiny dildos.
And I fully intend on taking over the world with them.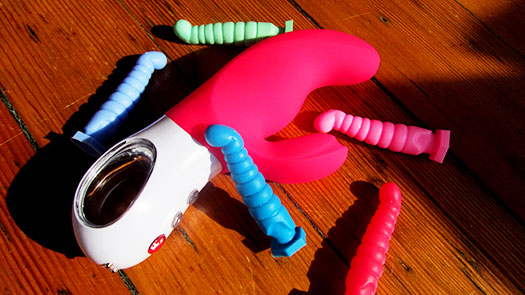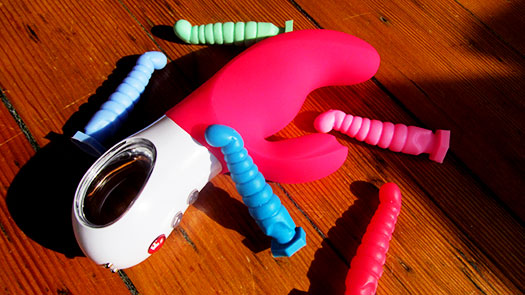 I have had my eye on the Fun Factory Miss Bi ever since the toy came out a year ago. There were three main things that drew me to it. First was the name, which, as a bisexual lady, I found amusing. "Just call me Miss Bi."
Second was the shape, which is pretty different for a rabbit vibrator. My biggest problem with rabbits is that they almost always undershoot my clit, which is roughly a hundred miles from my vaginal entrance. But this one's got a pretty short shaft — it's only 3.6" insertable — paired with a fairly long external arm, so I thought it might fit my body better than most.
Third was that it's a Fun Factory toy. This is the first toy by them that I've ever actually owned, but I've been obsessed with the company for years because they always seem to be doing really cool, innovative, and unusual things like pulsating toys and dildos with jiggle balls in them. They also do a lot of really interesting colors, like oranges and greens and yellows. Colors you don't see very often in what can be a very monochromatic pink and purple industry. They're just fun. It's a fun company. Fun Factory. I love it.
So how do I feel about the Fun Factory Miss Bi? I have mixed feelings, but they're mostly positive.
I think the shape is great. I think Fun Factory went into this with a real understanding of human anatomy and where other dual-stimulation vibrators fall short for some people. The shaft is long enough to reach my G-spot easily but short enough that I don't feel like I have to force it in as far as physically possible in order to take advantage of the clit stimulator. That bulge at the base of the shaft looks a bit odd, but it really adds a nice sense of fullness to what would otherwise be a rather small toy.
The external arm is nice and long, so it hits my clit without issue. The shape of this toy could not be more perfect for me. I even love the little loop handle. It's comfortable for me to thread a finger or two through while my thumb changes settings, and I bet it's a good accessibility feature for folks who have trouble with grip.
The silicone on this toy is matte, draggy, and fairly squishy and flexible at the tip of the shaft and the entire external arm. I like the flexible shaft, but the clit arm's flex is a little bit of a problem for me. I like pressure when it comes to my clit stimulation. When I use a standalone clit toy, I really press down so it pushes hard against my body.
Up until now the only rabbit vibrator that I've ever really liked has been the LELO Ina Wave. And I hate that, because I hate LELO, and I think the Wave is a shitty gimmick. But nothing has ever been able to beat that hard, unyielding, clampy clit arm for me. Now thankfully I can use my thumb to push down on the Miss Bi's clit arm and get the pressure I want. It's not ideal, but it works well enough, and I'll take a long enough external arm that I have to push down on over one that doesn't even reach my clit any day.
The vibrations on this toy are controlled by three buttons. You've got one to turn the toy on and off, one to control the internal arm, and one to control the external arm. I LOVE having different buttons for each arm. Being able to control each motor separately means that I can have one at a higher level than the other, one on a pattern while the other's on steady vibration, one off while the other's on. Just so many different options that you don't get with a lot of rabbits.
I do have one problem with these buttons though, and that's that I wish the on/off button wasn't so close to the motor control ones. It is slightly larger, but I don't really notice that with my finger, and I am constantly accidentally turning the toy off when I mean to increase the shaft vibrations. And since this toy isn't one that remembers what settings you were last on, I then have to cycle through both motors to get back to where I was. That's annoying.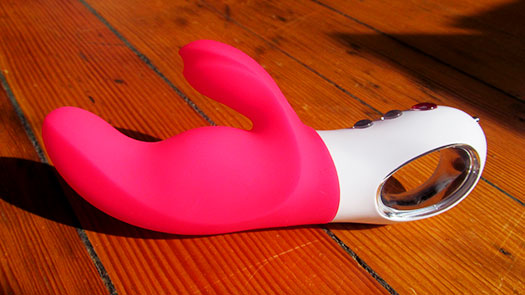 The vibrations themselves are… okay. One of my biggest vibrator pet peeves is a small range of intensities, and each arm of this toy only has three speeds (and three patterns, but I don't care about those.) The speeds are also very different between the two motors. The internal arm is nice and rumbly and pretty powerful, while the clit arm is weaker and a bit buzzy. When they're both going, the vibrations from the internal arm do carry through and make the clit arm feel more powerful.
Powerful enough to get me to orgasm? No, unfortunately.
But surprisingly, I don't actually mind that too much because that strong and rumbly internal arm actually makes a pretty good clit toy on its own. I like to use the Miss Bi as a dual-stimulator for teasing, and then when I'm ready to finish I turn off the external arm and use the internal one on my clit. Normally if I had to do that with a rabbit I'd consider it a failure of a dual-stimulator, but the shaft of the Miss Bi feels so good on my clit that I kind of don't mind that it's not the toy's intended use.
At the end of the day, the Fun Factory Miss Bi is rabbit vibrator that I actually like, and that is a rare breed.
As with all sex toys, and especially all dual-stimulators, your mileage may vary. That's just the nature of the beast. No rabbit is going to work for everyone. But if you're like me and the average rabbit vibrator tends to fall short of your clit, this is one I'd definitely recommend looking into.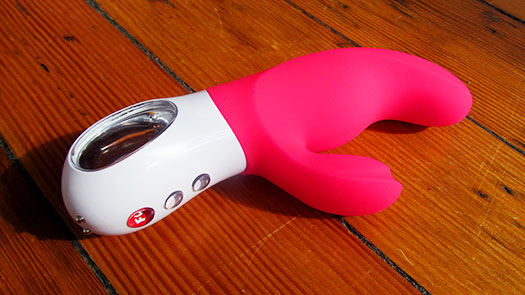 If you've got any thoughts or feelings on this toy, definitely let me know down in the comments.
Thanks for watching, and I'll see you next time!