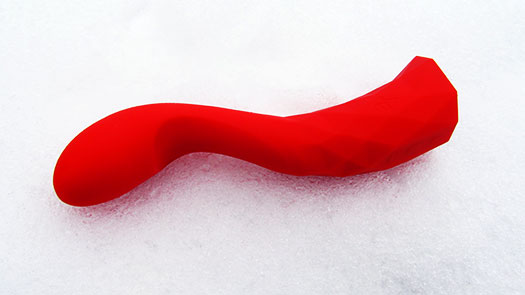 When I say that the L'amourose Prism V is my perfect vibrator, I am not using that word lightly. I test sex toys for a living, after all, and I sugarcoat nothing — the things I love still tend to come with a list of caveats, and the things I hate are spared no snarky comment or complaint. I want the sex toy industry to be better, and part of making it better is through critique.
And taking reviewer critique is truly one of the areas where L'amourose has shined. Their flagship Rosa vibrator was immediately lauded by the sex toy blogging community for its strong, rumbly vibrations and G-spotting head, but there were two main sticking points — the nontraditional handle made it a challenge for some to comfortably hold, and the $180 price (since lowered to $159) placed it financially out of reach for many.
Enter the L'amourose Prism V. Combining the head shape and rumbly goodness of the Rosa with a longer handle, stiffer neck, and more palatable price tag ($99!), L'amourose has concocted a fucking impeccable vibrator.
Big thanks to Peepshow Toys for sending this to me for review!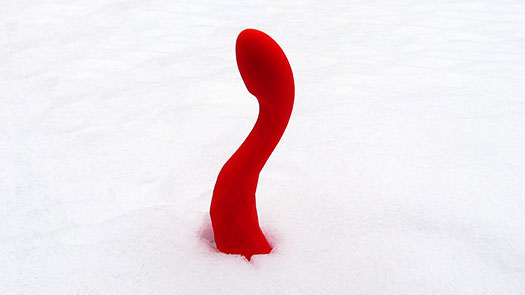 What really makes this toy for me is the versatility. I can use it clitorally, and the tip nuzzles effortlessly between my labia. I can use it internally, and it rubs right up against my G-spot. I can also use it as a dildo with the vibrations turned off — not that I ever do that, because the vibrations are absolutely awesome.
The Prism V has 12 deep, rumbly intensity settings that run the gamut from subdued to damn powerful. On the highest settings, it is a couple notches weaker than its predecessor, but it's stronger than my LELO Mona 2 and the vast majority of insertable vibrators out there. It's more than enough for me in any situation, and I imagine that'd be true for the majority of people. It also has 5 patterns. I've never been a pattern person, but for those of you who are, there ya go.
It's got all the features you'd expect from a luxury vibrator: Rechargeable. Waterproof. Classy packaging. Gorgeous design.
This is easily one of the most attractive sex toys in my collection. The multifaceted handle, where the Prism gets its name, is both super pretty and comfortable to hold. Mine is in the color Sunset, a lovely orangey red that's hard to accurately capture on camera, but I'm also smitten with the dusky Sky Blue version. This is the only vibrator I have ever considered getting multiples of in different colors. That's how much I love it.
I feel like L'amourose really thought through every aspect of this toy, down to the flat base that allows it to stand upright. That might not seem like an important feature at first glance, but trust me — when you're post- or mid-jack off and need to set a fluid-covered toy down, it matters.
If I have to find a fault with this toy, I will acknowledge that the motor is kind of rattly, which makes it noisier than I'd prefer. However, I still can't hear it at all through a closed door, even on the highest setting.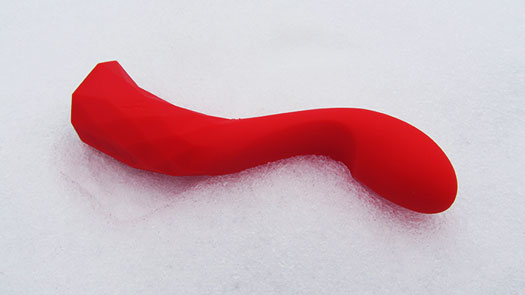 Overall, the L'amourose Prism V is the luxury insertable vibrator I feel I can recommend above all others. It's competitively priced compared to LELO, Jimmyjane, or Je Joue insertables and blows them all out of the water in vibration strength and sweet, sweet rumbles. It's a wonderful, smartly-designed, all-purpose vibe that has quickly climbed to the top of my favorites list.
---
Get your own L'amourose Prism V at Peepshow Toys
(Use the code ERIKA for 10% off)