Reviewing possibly the worst-named sex toy on the planet, the Womanizer Pro W500, courtesy of Lovehoney.
Where to Buy: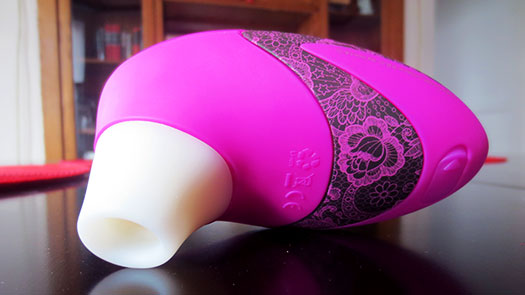 What is this? WHAT ARE YOU?
Today I have another sex toy review for you, and it is the horrendously named, horrendous looking, yet weirdly enjoyable Womanizer Pro W500. This strange device was sent to me by kind folks at Lovehoney in exchange for my honest review.
My preferred method of clitoral stimulation with sex toys has always been pressure + movement, but the Womanizer W500 can do neither of those things. What is does instead is suck — on the clitoris. If you're having visions of those really intense clit pumps, I'm going to stop you right now because this thing is, above all else, subtle.
And that subtlety really threw me for a loop when I first got this toy. I'd read a whole bunch of glowing reviews beforehand, many of them by self-professed Power Queens, and I was expecting something more… more. I turned it on, and I was like, "Is this it?" The suction is very mild, and the vibration is gentle even on the highest setting.
The sucking sensation in use is really bizarre. A couple of other reviewers have likened it to tiny fish gently nibbling on your bits, and I think that's probably the most accurate description for how this thing feels, honestly. It's a very subtle sensation.
When I first put this on my clit, I was dubious that it would be able to get me off at all, let alone in the record times that some other reviewers were reporting. Yet after a few seconds of contact I actually had to yank the thing away because it was somehow… too much?
The Womanizer W500, in my experience at least, has a hell of a learning curve. First, I needed to figure out exactly the best way to place it on my clit. While it doesn't exactly provide direct stimulation, it is very pinpoint and unyielding. You place the toy on your clit, and you leave it in place until it's done, lest it start sputtering and blowing cold air out. I cannot put it directly on my exposed clit without it being uncomfortable, so I have to make sure that my clitoral hood is pulled over to provide a comfortable barrier.
Second, I needed to figure out exactly how my body reacts to changes in the suction levels. With a regular vibrator, I usually turn the intensity up just before orgasm. With this toy, doing that often takes me from "just a little more" to "too much, too much, too much," and then I have to basically start over. So when my orgasm starts to loom, I have to resist the urge to go for more power with the Womanizer and just ride it out on whatever setting I'm already on.
Third, I needed to figure out that the magic 60 second orgasms that others were having with this thing were never going to happen for me. I actually take significantly longer to get off with the Womanizer W500 than I do with a decent vibrator, but the orgasms that I get from it are so long and deep and wonderful that I kind of don't care. It might be more difficult to get there, but the results are crazy fantastic.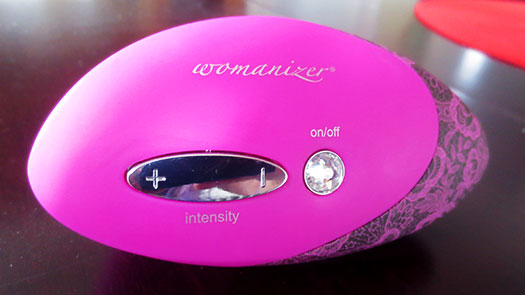 If this were a first generation toy, I'd tear into it about how ugly it is, but honestly I'm just grateful that it's significantly more attractive than its predecessor. If that's the alternative, I guess I can live with this pink lace design. The W500 also comes in a more minimalist white and silver version as well as the brand's obligatory florals and animal print. I never tried the original Womanizer, so I can't compare the two in terms of function.
You turn the Womanizer W500 on by pressing and holding the crystal button, and then it's got 8 different intensity levels that you control with the plus and minus buttons. I don't know that I've ever enjoyed it above the 4th level, but hey, that's just me. It can get pretty loud when it's just hanging out by itself, but thankfully when it's in contact with the body the sound dampens considerably. Don't ask me why the head glows red because I have absolutely no idea. It's silicone and it's removable, so you can take it off and wash it by itself since it's the only part of the toy that actually comes in contact with your nether regions. The body you can use toy cleaner on or just wipe down as needed.
At the end of the day, I really like this toy. I really like the unique sensation, and I really like the orgasms that it gives me. But I have some major reservations about recommending it to you guys. It's hella expensive. It's not waterproof. It's really difficult to use any sort of internal toy with it without those sensations overpowering the Womanizer or your hand or the base of the toy bumping against it and knocking it out of place. I have no idea who's going to like its weird stimulation style or who's going to hate it. I have no idea who's going to find it to be too much or too little for them. It might be fantastic for someone who has a lot of trouble getting to orgasm, but it's really a gamble because the price is so high and the stimulation is so unusual.
But it might be a gamble worth taking because thankfully Lovehoney has an unprecedented 365-day return policy. So if you buy it from them and don't end up liking it, you can get a full refund for up to a year. So that's something to think about if you're interested in this toy.
So let me know your thoughts. Is this something you'd like to try, or does it just seem too weird? Tell me down in the comments.
Thanks for watching, and I'll see you next time!