Reviewing the We-Vibe Rave, sent to me by Lovehoney!
Where to Buy: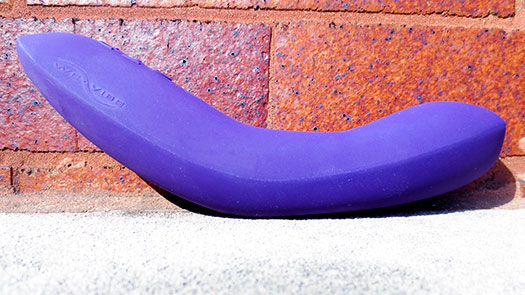 When the wonderful folks at Lovehoney offered me the two newest We-Vibe toys for review, it was a very exciting day. If you guys don't know who We-Vibe are, they're best known for making some of the most powerful, rumbly vibrators in the industry. Up until now they've mostly done clitoral stimulators and couple's toys, but today I'm going to review their first G-spot vibrator, the We-Vibe Rave.
When you first open this toy, the most interesting thing about it is definitely its shape. It's got this asymmetrical design that not only curves upwards for G-spot stimulation but also swoops to the side. The head is half bulbous and half tapered, and the entire perimeter of the toy has a very pronounced edge. I thought this all might be weird in use, but what it actually does is give the Rave some serious versatility.
Internally, the Rave can be thrusted like a traditional G-spot toy, but the shape of the head means that it can also be twisted for unique results. When I turn the handle from side to side, that bulbous area of the head rubs up against my G-spot in a way I've never felt before. Even the smallest little twists can produce this sensation, and it's awesome.
But at the end of the day, I'm a clitoral girl when it comes to vibrators, so I'm delighted to report that the Rave's strange shape excels there as well! Because of that asymmetrical head, the front can deliver broad stimulation, while the edge of the tapered corner is very pinpoint. I like broad stim, so I only really use it from the front, but who doesn't love having options?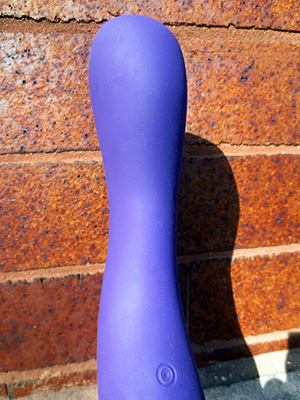 As this toy is from We-Vibe, it should go without saying that it has a beast of a motor. Though I'm going to let you in on a little secret — the first couple times I used the Rave, I hated its motor.
In the sex toy industry, there is an important distinction between buzzy and rumbly vibrations. Buzzy vibrations are very surface-level. Some people prefer them, and they can get fairly powerful, but many people find them to be numbing or itching.
Rumbly vibrations are deeper and penetrate further. If you place a rumbly vibrator on a clitoris, its vibrations aren't just going to stimulate the nub — they're going to go deeper and stimulate the entire internal clitoris as well. Because of this, rumbly vibrations are often highly coveted and hailed as the superior form of stimulation.
This is one of the reasons I was so excited to get my We-Vibe Rave in the first place, so I didn't understand why its vibrations just weren't doing it for me. To be honest, I think my body just wasn't prepared for what rumbly vibrations really feel like.
Up until this point, my Mona 2 was the "rumbliest" vibrator I owned, and even that gets buzzier the higher you turn it up. So when I first put the Rave to my genitals, I think they were just confused. New experiences can do that to them.
As I continued to play with my Rave, I started to understand its nuanced sensations. Then the orgasms started to come, and they. were. fantastic. Deep, intense, and fantastic. I love this thing, no questions about it.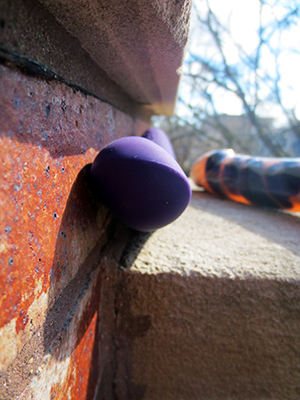 It does have one downside though that I don't quite understand. It's not waterproof, it's only splashproof. This means it's water-resistant enough that you can wash it in the sink no problem, but you have to be careful and it can't be submerged.
We-Vibe's previous toys have been completely waterproof, so it's a bit disappointing that this one is not. But it's not disappointing enough to stop the Rave from being one of my new favorite sex toys.
In terms of specs, the Rave is 7.5" long with an insertable length of 4" and a diameter of 1.22". It's got a wide range of vibration intensities and 9 different patterns, and you can sync it to the We-Connect™ app to create your own patterns or to connect it to a partner who can control the toy from anywhere in the world.
If you'd like to get your own We-Vibe Rave, I'll put the links down in the description.
So what do you guys think of this toy? Does its weird shape or intense vibrations appeal to you? Let me know down in the comments.
Thanks for watching, and I'll see you next time!