Today I've got a review of the We-Vibe Nova rabbit vibrator, sent to me by Lovehoney!
Where to Buy: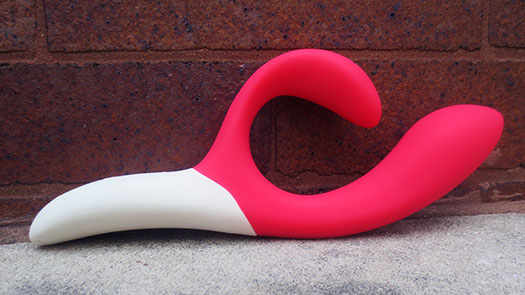 You guys already know how much I fucking love the We-Vibe Rave, so much so that it's quickly become one of my all-time favorite sex toys. So when I got ready to test out We-Vibe's other new toy, the Nova, I knew it had a lot to live up to. Thanks as always to Lovehoney for sending these to me to review!
The We-Vibe Nova is a rabbit vibrator (a dual stimulator), meaning that it has two motors, one for internal vibration, and one for external vibration. And the Nova is actually one of the most exciting things to come into the world of rabbit vibes because it addresses one of their biggest limitations, which is that they can't really be thrusted.
With a traditional rabbit vibrator, thrusting the internal arm often causes the external one to lose contact with the clitoris. The Nova, on the other hand, has this weird, flexible external arm that's meant to ensure that it stays in contact with the clit when the toy is thrusted.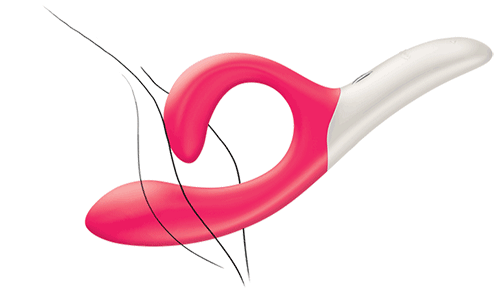 This was the part of the toy that I was most dubious about when I first got my hands on it, but I'm delighted to report that it actually works really well! When I thrust the internal arm, the external one does stay in contact with my body. I do find that because there's a limit to how far the external arm can be bent back, it does exert a fair amount of pressure. But I really enjoy pressure on my clit and vulva, so that's cool with me.
Since it's a We-Vibe, it should be a given that the vibrations are strong and rumbly.
However, as great as the design of this toy is, it does have the same setback as every rabbit vibe ever, which is that it's very anatomy-dependent. I said that the external arm is able to maintain contact with my body, but no matter what I do it never quite makes good contact with my clit. Even pushed as far back and up as it'll go, it mostly just vibrates my labia and the space between my clit and vaginal opening. The vibrations are powerful enough and travel far enough that I do get some clit stimulation from it, but it just doesn't make contact in the way I would like. I've heard great, great things from people whose clits are a bit closer to their vaginas than mine, so it definitely works well for some bodies, just not mine.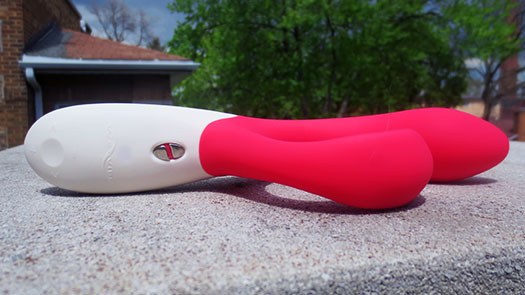 The other issue my body has with this toy is the shape of the internal arm. It looks kind of similar in shape to my beloved LELO Mona 2, so I was expecting to really like it, but something about that bulge just doesn't agree with my vagina. I've heard people talk about toys kind of getting stuck in them and being uncomfortable to remove, but I'd never experienced that before the We-Vibe Nova.
This is particularly annoying because it can make what's arguably the most exciting part of this toy — its suitability for thrusting — a pain in the ass. There are times when I've been able to thrust the Nova smoothly and get some good G-spot stimulation from it, but other times it refuses to move comfortably in my body at all.
The We-Vibe Nova and I have had some good times and some great orgasms, but its incompatibility with my body makes it one of those toys I'm probably not going to reach for unless all of my other good vibrators are dirty or dead. (Which does happen fairly often because I am incredibly lazy.)
However, if you're someone with a clit that's closer to your vagina, I think this could be really awesome. It's well-made. It's got great vibrations. It's waterproof and magnetically rechargeable. It's got an app that lets you program your own vibration patterns, control the two motors separately, or pass the controls off to a partner anywhere in the world. It has a lot going for it — if it fits your body.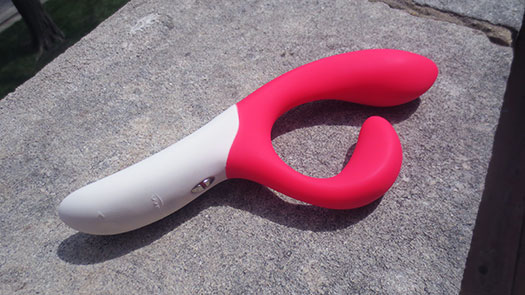 As usual, Lovehoney makes difficult sex toy choices easier with their 365-day return policy. If you get a toy that doesn't do it for you, send it back, get a refund, try something else.
So what do you all think of this thing? Would you put it in your orifices? Leave your thoughts and questions down in the comments, and I'll see you next time!