Check out my thoughts on the Tantus Bound, kindly sent to me by Tantus!
Where to Buy:
Other Products Mentioned:
Tantus The Vamp
Tantus G-Spot
Tantus Cush O2
Sliquid Sassy

When I pulled the Tantus Bound out of the box for the first time, I had the sinking feeling that I'd made a terrible mistake. I don't think you can fully appreciate exactly how intense this toy's texture is until you're holding it in your hand. This is not a dildo for the faint of heart or orifice.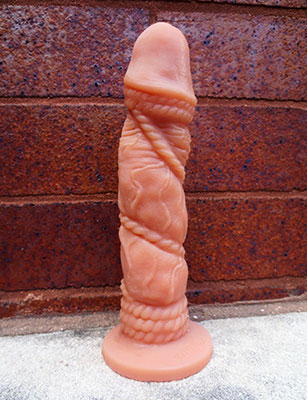 The Bound is a toy I that have been tentatively lusting after for a long time now. It was a collaboration between two of my all-time favorite brands, Tantus and SheVibe, and just look at it. It's fucking cool.
It's such a unique design with the rope texture winding around it, and the detail in the veins and wrinkles is impeccable. I didn't imagine fucking myself with this toy so much as I imagined displaying it proudly on my mantlepiece.
But then it arrived for me to review, and actually faced with the task of putting it in my vagina, I was like, "Oh shit." This is a level of texture I've never experienced anything like before.
Even the silicone itself is very rough and draggy, like the hands of someone who does a lot of manual labor and hasn't yet discovered the wonders of Dream Cream. It also has very, very little squish to it, so every bump and ridge is extremely pronounced.
It was definitely daunting. But the dedicated reviewer that I am, I took a deep breath, inserted it… and immediately fell in love. Clenching around that texture is heaven. I can also thrust it a little bit in small movements, and that feels great too, but mostly I just squeeze. I was really worried that the firmness of the silicone was going to be a problem for me, but I actually adore it because it means that my vaginal walls feel every inch of that wonderful, wonderful texture.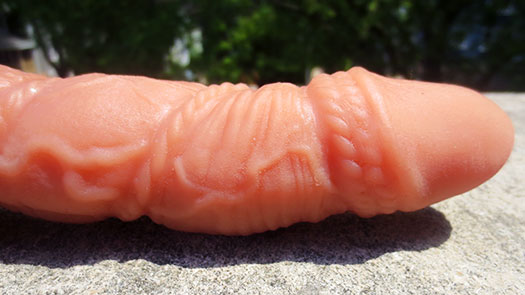 Now there are a few rules I've discovered that need to be followed in order to me to fully enjoy this beast.
Rule #1: A warm up toy is not optional.
Preferably something larger but smoother. The Vamp works, and so does the G-Spot, and so does the Cush.
Rule #2: When you think you've put enough lube on it, add more.
I suggest something thick and cushiony to help drown out the abrasiveness. I really like Sliquid Sassy for its nice gel consistency.
Rule #3: Do not use the Bound if you are not prepared to clean the Bound.
Because of all that lovely texture and detail, this toy requires a more intensive cleaning. I'm talking multiple passes in the sink with a dedicated sex toy cleaning toothbrush. You could also boil it or sanitize it in the dishwasher. But either way, it's always going to be more work than cleaning most other sex toys.
I do want to mention that I do not think most people will like this toy. In fact, a lot of the sex toy reviewers I know do not like this toy. There's a phrase that I've heard in the sex toy world, which is "texture slut" — I might be a texture slut. So bear that in mind.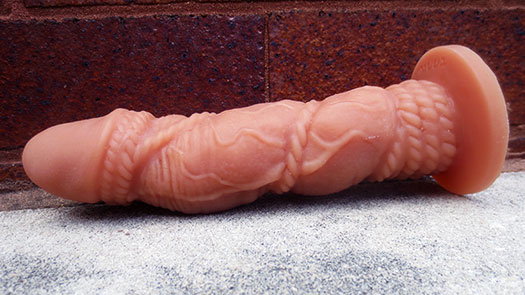 But I'm obsessed with this thing. It's kind of changed the game for me because now I just want to go out and conquer more ridiculously textured dildos. If you have any suggestions, leave them down in the comments! I hope this review was helpful and enjoyable.
Thanks for watching, and I'll see you next time!