My thoughts on the Tantus G-Spot vibrating dildo!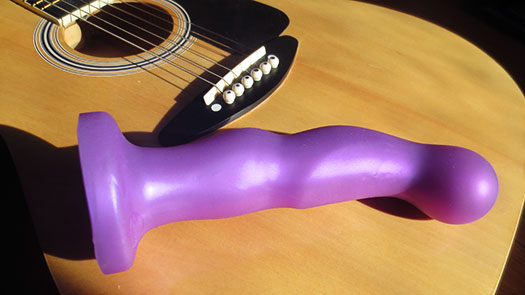 Hello! I'm Erika Lynae, and today I'm going to talk about the Tantus G-Spot vibrating dildo. This toy was kindly sent to me by Tantus in exchange for my honest review.
I feel like the G-Spot is a toy that's easy to overlook in Tantus's lineup. Hell, it's been out for years and only just recently caught my attention. But overlooking it would be a mistake, because while it may not be their most interesting-looking toy, it more than makes up for it in pure functionality.
The Tantus G-Spot does exactly what it says on the tin: It's a kick-ass G-spotter. As soon as I insert it, that bulbous head goes right for my G-spot without any effort or finagling on my part and stimulates it beautifully with even the smallest movements. And it's the kind of G-spot stimulation that I like!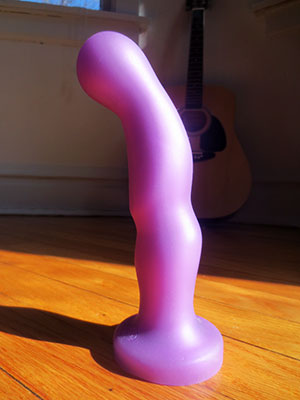 I've never really been a fan of toys that sort of stimulate the G-spot and nothing else. I like my dildos to provide a feeling of fullness, and because it has a diameter of 1.7" inches, the G-Spot really delivers on that.
I don't know why every time I'd see this toy on the website I assumed it was more comparable in size to something like the Tantus Sport, but it's actually a really nice medium size with a bit of heft to it, which is much more up my alley.
One of the more interesting aspects of this toy is these small bulges partway down the shaft. They add an extra level of stimulation at my vaginal opening that feels fantastic when I thrust it.
Reviewers with longer vaginas have even mentioned being able to insert the toy further and get G-spot stimulation from those bulges while the head hits deeper spots. Which I wish I could experience, but I know I'll never be able to insert this thing that far.
That's okay though, because with the head against my G-spot and the bulges at my entrance, I am still a very happy lady.
Something else I found interesting when I got this was the feeling of the silicone. Most Tantus toys I've seen are either very glossy or very matte, but this is somewhere in between. It's sort of semi-matte, and… I'd almost describe it as silky? That's not to say that it's not still pretty draggy or that it doesn't still attract lint like a motherfucker, but it is smoother to the touch and nicer to run your fingers down, I think.
I don't notice much difference in use between this and my glossy Tantus toys, but I really like it because it's so damn pretty. That finish, coupled with the almost iridescence of the color, makes the G-Spot stand out in my sea of purple sex toys.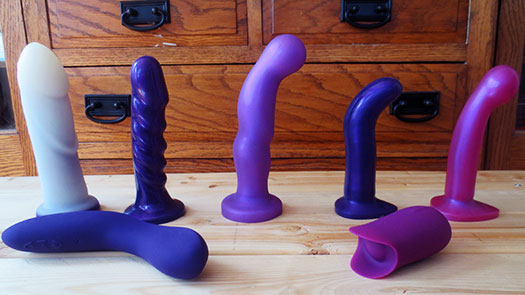 Like most Tantus toys, it's got a thick, solid base that makes it good for using anally or strapping into a harness. I haven't used it either of those ways, but I bet that if I had a prostate, this thing would be killer there. (They even make an identical prostate dildo in black called the P-Spot).
And like all Tantus "vibrators," the G-Spot has a hole in the base that they send a little bullet vibrator for. I never use it that way, but I always love having the option.
This toy once again confirms for me why Tantus is my favorite silicone dildo manufacturer. They make some of the best toys in the industry, and this one is no exception.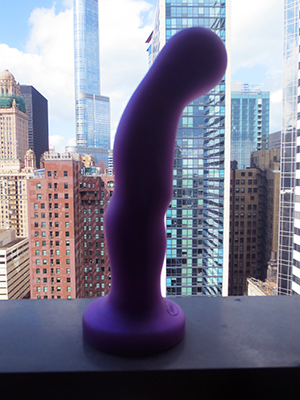 So let me know your thoughts down in the comments! Does this toy look as good to you as it feels to me? Let me know.
Thanks for watching, and I'll see you next time!