Today I'm reviewing the Mona 2 vibrator by LELO!
Other Toys Mentioned: 
OhMiBod Lovelife Cuddle
L'amourose Rosa

Goddammit LELO.
Hey everyone! Today I've got a vibrator to review for you, and it is the Mona 2 from luxury sex toy brand LELO.
Before I get into anything, I want to let you know that this toy was not provided to me by a company, I purchased it myself. But I did not pay for it myself because a lovely subscriber hooked me up with a SheVibe gift card. So keep all of that in mind throughout the review.
Now this video pretty much has to come in two parts, my feelings on the toy and my feelings on LELO as a company.
Let's start with the fun part, which is the actual toy review.
I have wanted a LELO Mona 2 for years now, pretty much since it was released. I've seen so many reviewers rave about it, call it their favorite, their "holy grail sex toy," and I knew I needed it in my life. And when it finally arrived on my doorstep, I was over the moon. I cannot tell you how excited I was to finally get my hands on this thing. And the coolest part was that it totally lived up to the hype for me.
It's absolutely gorgeous, first off. It's got an ABS plastic body with a super silky silicone covering on the insertable part. I got mine in red, and it's classy as fuck.
I can count eleven different vibration intensities on my Mona, which is a huge range. The lowest vibration setting on this thing is so ridiculously low that sometimes when I cycle back down through the vibrations to turn the toy off I think it's off when it's not and don't notice until a few minutes later when I hear the barely discernible buzzing on my nightstand. But that's easily avoided by, y'know, paying attention.
As you turn the vibrations up, they get surprisingly powerful.
I have a bit of a weird body where, unlike a lot of people who need strong clitoral stimulation and less vibration internally, I'm the opposite. I use my Mona externally almost exclusively and tend to stay between vibration settings 4-6. But I love how far it goes past that because internally I do crank it up.
The best thing about the LELO Mona 2, I think, is that whether you want the softest little purr or some serious power, it can give it to you, and everything in between.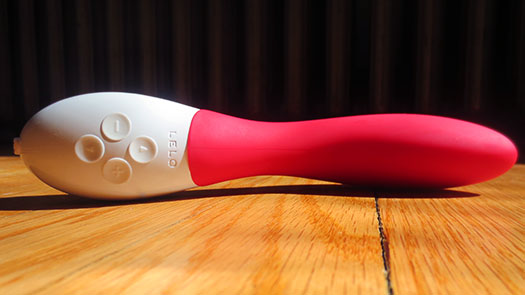 The Mona 2 is LELO at their best. Simple, ergonomic, quality toys is really what they should be known for. There is a reason their Mona, Ella, and Luna Beads are so beloved.
But instead, the first things to come to mind when I think of LELO are half-assed attempts at innovation (if you want your insides robotically churned or your vibrators scented, they've got you covered), absurd luxury "pleasure objects" (does anyone really need a $15,000 gold vibrator? Anyone?), and pretentious and recently bizarrely classist and misogynistic marketing.
They've also just recently hiked up their prices, this despite a decline in product and packaging quality over the last few years, and it's all just really frustrating. Some of their toys are so great, but they're making it really difficult for me to want to support them as a company.
I guess what it comes down to is do I think the LELO Mona 2 is worth buying? I think it's beautiful, I think it's versatile, and I think it works really damn well. It's maybe my favorite sex toy that I own. But if my Mona were lost or stolen or abducted by aliens, would I shell out the now $169 to replace it? Probably not.
There was a time when good rechargeable insertable vibes were a rare find, but these days people have options. I'd probably go for the OhMiBod Lovelife Cuddle, which is also well-loved and a full $100 cheaper. It's not waterproof and it's not quite as strong, but I rarely go past the Mona's middle settings anyway.
And if I really wanted power, the L'amourose Rosa is similar in price depending on where you get it, and it's significantly stronger and rumblier. I played around with it at a local shop and it kind of blew my mind. It's also anal-safe, if you're into that, so it's even more versatile. (See also: The new L'amourose Prism V, which is cheaper than both and more similar to Mona in shape).
I'm not telling you not to buy a LELO Mona 2, because it is truly a fantastic toy. It has its stellar reputation for a reason, and I'm definitely head-over-heels in love with it. But I just don't know that it's the best value for money these days. I dunno.
Those are my thoughts. Let me know yours down in the comments, and I'll see you next time.