What do I think of the Luxe Electra Compact vibrator? Let's find out!
Where to Buy:
SheVibe (it's actually $40 — I misspoke!)
Other Toys Mentioned:

Normally I choose which sex toys I review just based on what I think looks interesting or what my other toy reviewer friends have liked. But this review is pretty exciting because the toy was actually recommended to me by a bunch of you guys — viewers and friends outside of my sex toy industry bubble.
So today I'm going to share my thoughts on the NS Novelties Luxe Electra Compact vibrator!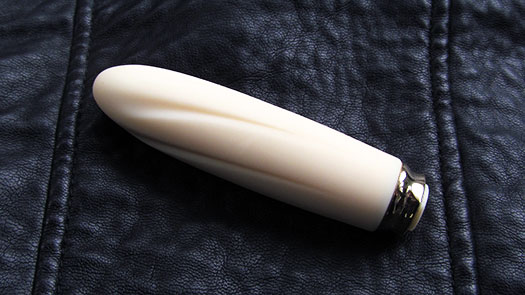 This toy was sent to me for review by the great folks over at SheVibe. I had wanted the white one because it's sort of an uncommon color for sex toys, but then when it arrived I realized it just looks like a tampon, so that's… interesting.
But I think that tapered shape is really nice, as well as versatile. The tip is great for clit stimulation, and the petite size (just under the width of two of my fingers) is ideal for people who are newer to penetration or just want something on the smaller side.
My hope for this toy was that it would be a great option to recommend to toy newbies, and I think it really delivers on that. For forty bucks, you're getting a rechargeable, waterproof, fairly powerful vibrator that's as good, if not better, than a lot of higher end stuff.
Around the same time I was sent the Luxe Electra I also acquired the luxury LELO Mia 2, and with them both being similar shapes and sizes it was hard not to compare the two. And I've gotta say, I think the Electra is better. The $85 Mia 2 has more intensity settings, but it isn't as strong, and because the buttons are placed in the middle of the shaft it can really only be used externally.
The Electra is a tiny bit buzzier, but not horrifically so. I'd say it's right on the edge between "buzzy" and "rumbly." And it's strong! Shockingly, it's nearly as strong as my We-Vibe Touch — for less than half the price.
Now, because nothing is ever good enough for me, I do have some complaints about the Luxe Electra.
First off, the marketing for this vibe calls it "virtually silent," and that is nowhere near true. It's actually pretty damn loud for a toy of its size. Secondly, while the toy's vibrations are mostly concentrated in the tip, it does still vibrate my hand quite a bit when I'm using it. I also wish it had more than three steady vibration settings.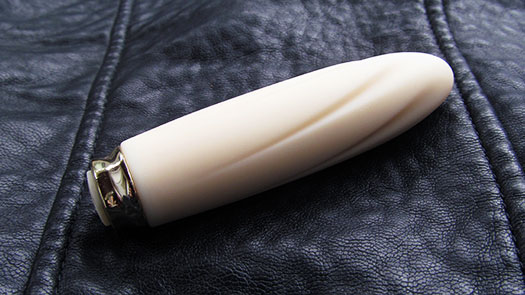 But probably the most irritating and weirdly unnecessary thing about this vibrator is the light that frames its button. Lights on vibrators can be nice to have — they're a good visual indicator for when the toy is on or charging — but this one is ridiculous. It is obscenely bright and flashes in time with the setting you're on, ranging from slow blinks to intense strobing. And because of its location on the base of the toy, it usually shines directly at my face when I use the vibe clitorally.
If you're someone who has a sensitivity to bright/flashing lights, this would not be ideal. I don't, and I still find it super distracting and annoying. Not enough to make me not want to use the toy, but enough to make me want to scream at NS Novelties "WHY DID YOU THINK THIS WAS A GOOD IDEA?"
However, for me, I think the pros definitely outweigh the cons with this toy. If you're looking for a great rechargeable vibrator without a luxury price tag, the Luxe Electra is one to consider. It gets a thumbs-up from me.
What do you think of this this toy, or what are your favorite budget-friendly sex toys? Let me know down in the comments!
Thanks for watching, and I'll see you next time!