Today I'm reviewing the Echo Vibrator by Tantus!
Where to Buy:
Tantus
Tantus Grab Bag (note: it is not always available as a Grab Bag toy)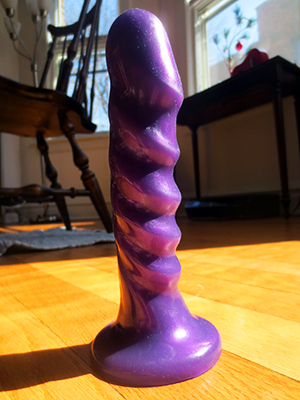 A while back, the lovely, lovely folks over at Tantus sent me a few toys for review, and today I'm going to talk about this one, which is the Tantus Echo.
They call the Echo a vibrator because of the cavity in the base that they send a little bullet vibrator for you to put in, but I rarely use it that way and pretty much consider it a dildo with the option of vibration.
The silicone is glossy and semi-firm — it doesn't have a lot of squish to it. As you can see, it's highly textured, with five pronounced horizontal ridges down the front and a slight vertical ridge at the back.
The flared base means it's both anus and harness compatible if you're into any of that, but I can't comment on how well it works in those regards because I don't use it that way.
Vaginally, this thing is a dream. The ridges really, really stimulate my front walls, and the head is pronounced enough that I can get some G-spot action going. It's not one of those toys that I can thrust like crazy with because of all the texture, but with enough lube it's fantastic for some slow in-and-out motions with the top ridge tugging on my G-spot. It's also a toy that I like for just inserting and leaving, clenching around it, feeling the fullness, squeezing the ridges.
Lightly thrusting, it's awesome. Inserted and still, it's awesome. I imagine this thing would be awesome pretty much whatever you do with it.
It's 6.5″ inches insertable with a diameter of 1.55″. I consider that pretty standard for what I'm used to and don't need a lot of warmup with it, but the size in conjunction with the texture does make it a bit more intense than other more smooth toys of the same size.
If you think the Echo would be too much for you but you want something similar,  I know Tantus does the Goddess, which is the same sort of bullet compatible, textured toy but a bit thinner and with a more subtle texture. They also do the Echo Handle, which is the same style but with the addition of a handle for anyone that has reach problems or just wants something longer to hold onto, and I've heard really good things about that one too.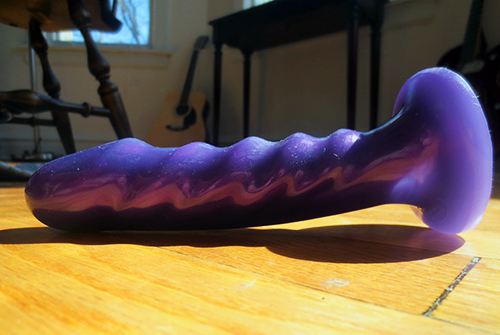 But I love my Tantus Echo. It's just a perfect specimen, and I highly recommend it to anyone who likes or wants to experiment with texture. It is so, so good.
Thanks for watching, and I'll see you next time!