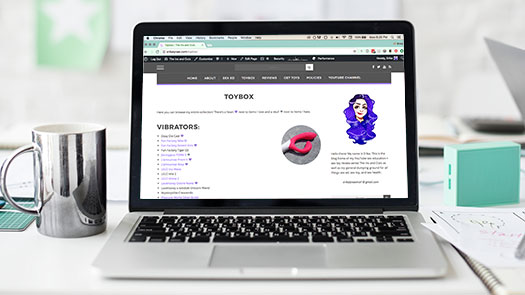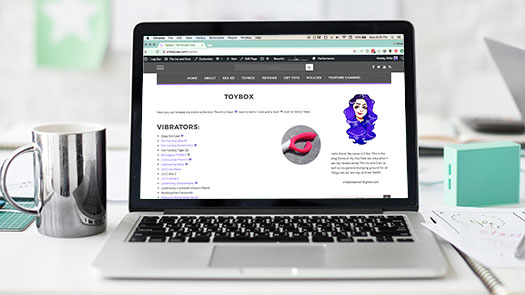 Cybersecurity and safety are issues for internet users of all stripes, but sex bloggers often have specific concerns. Here are my top tips for maintaining your privacy (especially if you're pseudonymous) and keeping yourself protected from hackers and harassment.
Protecting Your Privacy
WHOIS
If your website domain does not have privacy protection, I strongly recommend getting that right now. By default, all domain owners' full names, mailing addresses, phone numbers, and e-mail addresses are public information that can be easily searched in the Who.is database.
Check with your domain registrar to find out how you can enable privacy protection. Most of them offer this service for around $10 a year. Some, like Dreamhost, offer domain privacy free with registration.
EXIF Data
When you take a photo on a digital device, the file that's created contains not just the image itself, but also a collection of information about the image called EXIF data. This includes things like the date and time, the type of camera used, and, often, the exact location coordinates of where the photo was taken. For bloggers, who tend take pictures in their own homes, this can be a problem.
Many social media websites like Twitter, Instagram, and Facebook automatically strip EXIF data from all uploaded images, but some popular blogging platforms like WordPress and Tumblr do not. To check whether a photo includes unwanted data, upload the file or submit the URL to an EXIF viewer like this one. (If your location data is available, it will look like this.)
To prevent your location from being included in your photo (or video) files, you'll want to disable Geotagging on your camera. Here are instructions for doing this on iPhones/iPads and Android devices. For digital cameras, you'll have to search how to disable it for your specific model. There are also various programs that can remove location data from photos after they have been taken.
"People You May Know"
One aspect that sets the sex blogging world apart from other genres of blogging is that a large chunk of sex bloggers write under pseudonyms and keep their real names and faces out of their work. Because of societal views on sex and the stigmatization of sex-related industries, being outed as a sex blogger could have serious repercussions for many people, up to and including losing jobs, child custody, housing, and interpersonal relationships.
For those reasons, many bloggers have separate social media accounts for their blogger pseudonym and their regular life. But trouble can arise with the internet's (and particularly Facebook's) incessant need to track your every move and creepily connect you to every person you have ever encountered.
Many a sex blogger has experienced that horrifying moment when a vanilla friend, co-worker, or relative has suddenly popped up under the suggested friends/followers on their blogger social media profile. Bloggers have reported these connections even between unrelated accounts, such as their personal account's Facebook friends showing up on their blogger Instagram even when the two weren't linked.
There is apparently a way to prevent your Facebook profile from ever being recommended to other users, but it requires turning off the ability to receive friend requests entirely, which obviously isn't a great solution.
To try to avoid unwanted connections, I recommend that pseudonymous bloggers have not just separate social media and e-mail accounts for their blogs, but separate browsers entirely. Keep all of your blog accounts on one browser, like Chrome, and your regular accounts on a different one, like Firefox. This is a good way to prevent tracking from one account to another, as well as to avoid accidentally posting something to the wrong account.
I would also avoid following your blog accounts with your personal ones, and don't be afraid to request that other bloggers not follow your personal profiles with their blog accounts.
Even doing all of these things, some bloggers have still had problems with unwanted connections on Facebook, so make sure your privacy settings are as secure as possible. Check to be sure nothing on your personal profile is visible to the public (or to "friends of friends," since so many people will add friends indiscriminately), including your About information, statuses, photos, friends list, and things people tag you in.
You may also want to use non-face profile pictures or ones where your face is hard to identify, so that even if your profile is suggested to someone they may not recognize it's you.
If you do blog under your legal name (or if that name does get out), I would also keep an eye on the accounts of any family members who could be easily linked to you and encourage them to keep their account settings private as well. Unfortunately, harassers are often known to go after the families of their targets.
PO Boxes
If you're someone who reviews sex toys or otherwise gets blog-related mail, consider setting up a PO box (or a UPS box). This has a few different benefits: Besides just keeping your packages out of the eyes of curious roommates/children/neighbors (especially as sex toy manufacturers don't always know the meaning of "discreet packaging" for review samples), it's always a good idea to give the companies you work with as little personal information as possible.
There have been a couple different incidents I am aware of of a sex toy company sharing a reviewer's private information without their consent. One was an intentional doxxing by a horrible brand owner. One was an irresponsible mistake. I don't expect either of those instances to be the last.
PayPal Business
On a similar note, a PayPal Business account is also a good idea for sex bloggers. It's free to set up and allows you to use the site for transactions under your blog/business name rather than your legal one.
PayPal itself isn't an ideal payment processor for our community— they have strict rules about "adult content" and have a long history of shutting down the accounts of sex workers— but it is what most companies use for affiliate and sponsor payments. Sex bloggers have mostly been able to use it without issue thus far, but I would still recommend transferring all money into your bank as soon as it hits your PayPal to minimize the risk of losing it if they do decide to freeze your account.
Google Services
Google Alerts are a fantastic tool for tracking where certain information appears online. Create an alert for your legal name (or any other private info of your choice) so that you can be notified quickly if it becomes associated with your blogging persona online.
If you need to give your phone number to a company for whatever reason, it's also handy to have Google Voice, which will allow you to make and receive calls and texts on your phone without revealing your actual number. Unfortunately, this service is currently only available in the US.
Protecting Your Website
Password Managers
If you've been on the internet for any length of time, you've undoubtedly been told time and time again that you should not use the same password across multiple websites. However, if you're a human being, you probably also know that keeping track of a million unique passwords is a pain in the ass.
That's where password managers come in. These are pieces of software that store all of your passwords in one place behind a single master password. They also have the benefit of being able to randomly generate strong passwords for all of your websites and fill them in automatically whenever you log into one, so you never have to remember any of those passwords again.
My personal favorite password manager is LastPass, which I have been using for years. Besides the functions mentioned above, it also offers multi-factor authentication (which I'll get into in a moment), will let you know if high-profile websites are compromised, and can analyze your current passwords to see if they were included in the data breach.
Just come up with one super strong master password for your LastPass account, and then everything else is secure. The basic browser version is free, and the Premium version (which includes mobile use) is $24 per year.
Multi-Factor Authentication
Even when you have the best password in the world, the website hosting the account is still vulnerable to hacking. If this happens and your password is compromised, it's good to have another barrier in place to keep someone nefarious from getting into your account.
Multi-factor authentication (also called two-factor authentication) is when a website asks for a special code from an app or a number texted to your phone before it will allow an unrecognized device to log in. More high-profile websites are adopting multi-factor authentication all the time, and you can find the current list of ones that do here.
Adult Content Policies
I've already mentioned the issues with PayPal and sex workers, but many other popular services have policies against adult content and have been known to shut down sex bloggers.
This includes the two largest free blogging platforms, WordPress.com and Blogger, neither of which allow monetization for adult-oriented blogs. So if you want to utilize affiliate programs or host ads on your blog, you're out of luck with them. Tumblr provides more freedom but has suspended cam performers' accounts with the explanation that "we do not allow blogs with the primary purpose of affiliate marketing," so who knows what that means for us.
Even if you buy your own hosting for your site, many web hosts also disallow sex bloggers. However, there are some solid options out there. DreamHost, HostGator, and GoDaddy are all fine with adult content.
Some sex bloggers and escorts have so far been able to use Squarespace for their websites, but the company's Acceptable Use Policy states "don't do or post anything threatening, harassing, abusive, excessively violent, offensive, sexually explicit or obscene," so that could change at any time.
On the social media side, things aren't much better.
For Facebook you'll probably want to opt for a Page rather than a Profile due to their disturbing "real names" policy, but even then they have restrictions on adult content. In the past bloggers have had accounts disabled for offenses like posting pictures of dildos, but it has become less of a problem in recent years. Instagram has also been known to remove posts and shut down accounts for nudity and sexual content.
Social media can provide a lot of benefit for sex bloggers, but I always recommend scanning the TOS for words like "adult," "obscene," "graphic," and "pornography" and keeping backups of anything you would hate to lose if your account is deactivated.
Comment Management
Some sex bloggers who get a lot of spam and shitty comments opt to enable comment moderation, so that either every single comment or just the first comment by a new user have to be manually approved before they're posted publicly. Installing a comment system like Disqus that forces people to log in can also help cut down on spam comments and nastiness.
Your blog is your space. Don't be afraid to remove comments or ban people if they're harassing you or making your space less enjoyable, just like you'd kick someone out of your home if they're being an asshole. You don't owe those people anything. (This also goes for your social media. Block and mute people as liberally as you see fit.)
Useful Plugins/Services
If you're running WordPress on your site, there are a plethora of basic defense and security plugins available. Some of the best options are iThemes Security and Wordfence, and I would also recommend something for automatic backups like Vaultpress or Backup Buddy.
CloudFlare is another great security service for detecting and blocking attacks to your site.
Recommended Resources
This is by no means an exhaustive list of everything you can do to protect your privacy and security on the internet. For further information on this topic and more, I strongly suggest checking out:
Special thanks to Epiphora, Lilly, and Taylor for helping out with this post!