By popular demand, here is my second year-end roundup of sex toy hits and misses!
Toys Mentioned:
We-Vibe Wish (Review)
Hot Octopuss Queen Bee (Review)
Viberry Toothbrush Vibrator (Review)
We-Vibe Touch (Review)
L'amourose Rosa (Review)
NS Novelties Luxe Electra Compact (Review)
Doxy Die Cast (Review)
Other Links:
Ducky DooLittle's Cancer Bills Fund
Godemiche Issues

Another year has come and passed, and it is time to round up the greatest and most terrible sex toys I tried in 2017.
As always, I'm excited to dive right in at rock bottom, so let's start with:
The worst shit that came in contact with my genitals last year
This came down to a tie between two toys that I took absolutely no joy in reviewing harshly because they're both from companies that I genuinely really like. And funny enough, now that I think about it, they're toys that have the exact opposite problems.
The We-Vibe Wish is a clit vibrator I reviewed over on my blog in September, and I wanted to love this thing so, so much. The shape is perfect for me. I love the squishy silicone and the deep, rumbly vibrations. It could have been my ideal vibrator.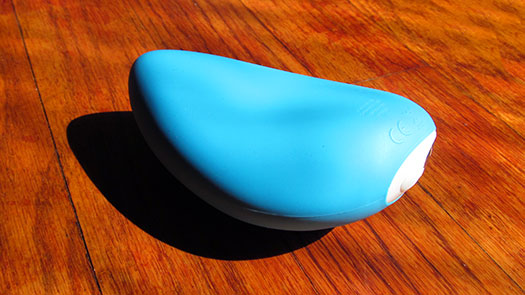 But then they went and ruined it by giving it two motors that don't do steady vibration and can only be fully controlled through an app. Why, We-Vibe? Why did you do this to me?
Then on the flip side we have the Hot Octopuss Queen Bee, a clit toy with a rad oscillating motor and a fucking terrible shape, which also happens to make one of the worst noises I've ever heard.
Am I on a construction site? WHAT IS THIS?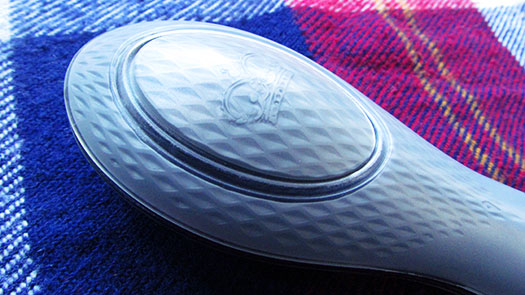 Queen Bee, you are bad and you should feel bad.
Now I want to talk about the stand-out sex toy company for me in 2017.
In a surprise twist, this title is going to a company that was actually on my blacklist in 2016 for design theft and terrible social media attitude. But they've really turned things around recently, in part thanks to the wonderful shining beam of light that is Ducky DooLittle (go donate to her cancer bills fund — link in the description), and I was so pleased with Blush Novelties in 2017.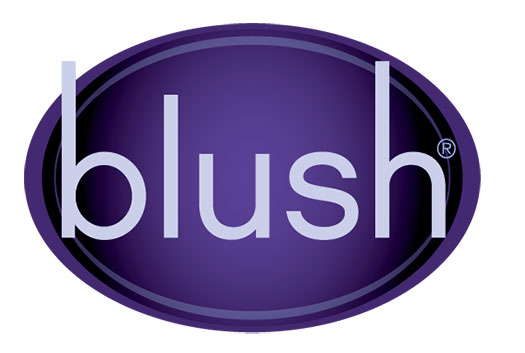 If you've e-mailed me looking for a solid toy on a budget recently, there's a good chance I directed you to something Blush sells. They took three spots on 2017's Top 10 Sex Toys Under $30 blog post and have come out with some fantastic lines of body-safe toys in the past year.
Unfortunately I only got to review one Blush toy last year, and that one was just okay. There was going to be a second review of a dual-density dildo that I absolutely adored, but unfortunately there was a weird mishap (defect?) with the product and I'm currently waiting on a replacement. So you'll hopefully see that review later this year, but I am super stoked about it.
The most disappointing sex toy company?
In contrast to Blush's rise from the ashes, here is a company that I was really excited about for quite awhile until the owner and face of the company revealed himself to be a… how to I put this? Insufferable jackass?
Godemiche — and I may very well be pronouncing that incorrectly, but I don't particularly care — is an indie company primarily known for making silicone dildos in every color you can dream of with glitter and metallics and galaxies… it's all completely gorgeous.
But 2017 was just one instance of gross social media misuse after another, from a friend taking the owner's phone to request nudes on Snapchat ("tit pics, no dicks") to the owner shaming "hairy vaginas" on Instagram to a VICE video where he announced that the company's first dildo was modeled after his own penis — something that was never clearly disclosed to customers, and something that he apparently had specifically denied to multiple toy reviewers who had asked him in the past.
He then responded to that backlash with one of the most condescending, aggressive, non-apology videos I've ever seen.
Let's CLEAR things up, VERY CLEAR, so you ALL UNDERSTAND.
So basically, Adam can go fuck himself with his own penis dildo.
The weirdest toy I tried this year had to be the Viberry.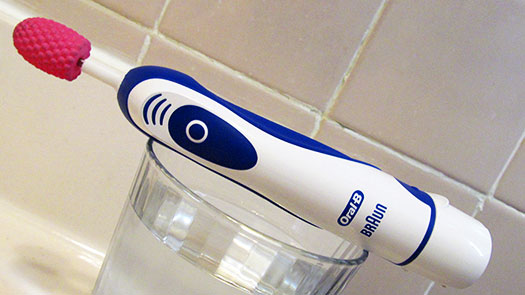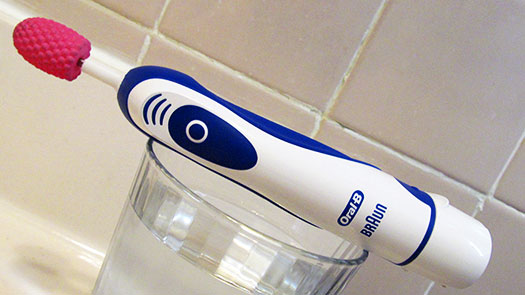 The concept of a sex toy toothbrush attachment isn't that new or weird, but the marketing for this thing really catapulted it into what-the-fuck land.
'ENJOY YOUR FIRST SEX TOY BUT KEEP YOUR INNOCENCE – Most vibrators look like instruments of torture but VIBERRY™ is cute and discreet. You'll use it outside of the body meaning that your innocence will remain intact.' Yikes.
To be honest, that was probably my favorite review I did all year. I have no tolerance for absurd, sex-shaming rhetoric, and getting to just unleash all of my snark on something that truly deserved it was a lot of fun.
Now let's talk about the best sex toy I tried in 2017.
There were a lot of good ones this year. The We-Vibe Touch is great. The L'amourose Rosa that I reviewed on my blog has one of the best motors of any insertable vibrator. And the NS Novelties Luxe Electra Compact is a $40 gem that I recommend to people all the time.
But easily the highlight of my year — and by far my most-reached-for toy — was the Doxy Die Cast.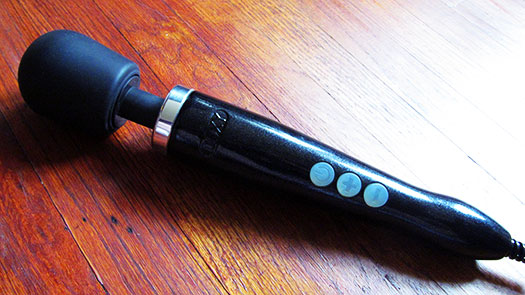 Despite the company's quality control issues that I talked about in my review, Doxy makes damn good wands.
My Die Cast is still the one toy that lives next to my bed and gets used almost daily. It's wonderful. I love it.
Going forward in 2018
I want to keep trying more budget-friendly toys. I just made a playlist on my channel for my under-$50 reviews, and I have a bunch more of those planned for this year. I also have a pretty epic giveaway coming up, so keep your eyes peeled for that.
What were you favorite or least favorite sex toys you tried in 2017? Let me know down in the comments!
Thanks for watching, and I'll see you next time!