My thoughts on the Blush Hop Trix rabbit vibrator!
Where to Buy:
Other Recommendations:
Blush Nude Impressions 02
Blush Nude Impressions 01
Fifty Shades of Grey Deep Within

Some rabbit vibrators have no business being rabbit vibrators.
As we get close to the end of 2017, I really want to round out the year by reviewing some sex toys at a lower price-point (like, $50 or less). I've reviewed mostly luxury toys this year — some great, some not so great — but I really want to make it clear that you do not have to spend a ton of money to get a quality sex toy.
One brand I've been really interested in for a little while now is Blush Novelties. They've been around for years but have only recently started moving away from just trying to emulate the gross mainstream manufacturers that I hate, and they're really coming into their own now in the world of budget-friendly, body-safe toys.
I just released the third edition of my annual Top 10 Sex Toys Under $30 list, and three of the toys featured were from Blush. So when SheVibe offered to send me the Blush Hop Trix rabbit for review, I was pretty stoked.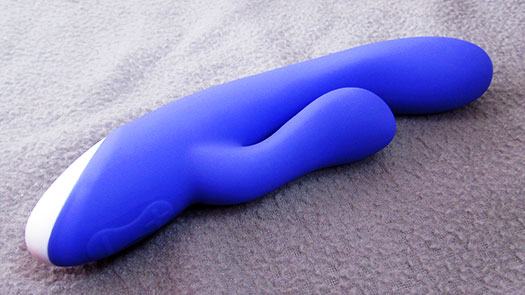 Now, I always say that rabbit vibrators are possibly the hardest sex toy to shop for because you have two different arms to contend with that both need to have the right shapes, sizes, and angles to hit where you want them to, as well as the right intensity and type of vibrations you prefer for each of those spots. No two bodies are the same, so a lot of rabbits don't work for a lot of people.
I know this. I have accumulated so many rabbit vibes in my time as a toy reviewer, almost none of which get any use because they don't fit my body. And yet for some reason I continue to buy into the hype.
I had high hopes for the Hop Trix because the external arm looked like it would be able to not only reach my clit but also put some good pressure on it, which is something I really enjoy and something a lot of rabbits don't do.
But alas, while the clit arm is long enough for me, it's super floppy and has a really underwhelming motor.
This is particularly annoying because the internal arm is actually pretty fucking awesome. It's got a nice shape and is surprisingly strong and rumbly for the price-point. I actually find myself reaching for this toy just to use the internal arm on my clit, and together we've had some good times. If this toy was just the shaft and not a rabbit, I would be recommending it without hesitation.
This is something I see all the time, and it frustrates me to no end. Companies will take what would be a perfectly serviceable insertable vibrator… and then they throw a useless clit arm on there with a weak, buzzy motor. It does nothing to improve the toy, and it actually makes it a lot less versatile because now you can't even use the shaft part with a GOOD clit vibe because you're being cock-blocked by this shitty external arm, buzzing pitifully and mocking you.
Ugh.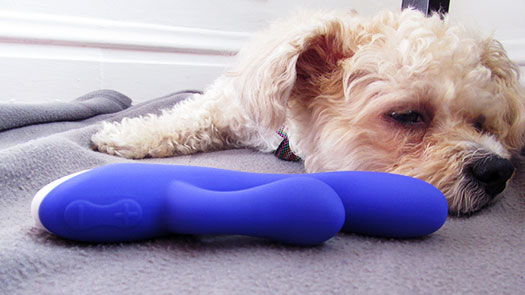 You also have to hold the button down for literal eons (erm… like, three full seconds) to turn the toy on or off, which is annoying if you need to quickly shut the toy off because, say, your roommate is knocking on the door or your dog is pissing on the carpet.
To be honest, I almost still want to recommend the Blush Hop Trix just based on how good that internal arm feels on my clit. But for fifty bucks, there are other insertable vibes that could do the same job and are more versatile because they don't have annoying clit arms. I'll link some of those down in the description.
What do you guys think about the Blush Hop Trix (or rabbit vibrators in general)? Let me know down in the comments.
Thanks for watching, and I'll see you next time!