I'm just gonna go ahead and say it — I'm kind of over app-compatible vibrators. They're a fun novelty and often have useful features like long-distance controls and custom pattern programming, but once we get to the point of having to rely on an app for basic vibrator functionality they become more of a burden to me than a benefit. This is the case with the We-Vibe Wish.
(Thanks as always to Peepshow Toys for sending me this toy for review!)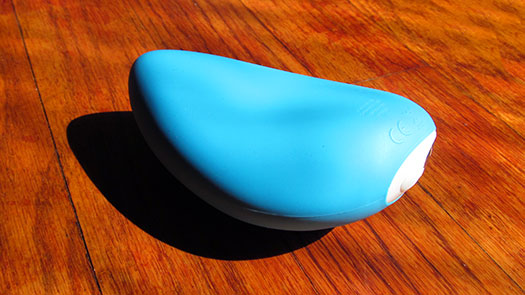 The promo video for this squishy, jumbo clit vibe immediately drew me in. I love broad stimulation and rumbly motors, and the Wish seemed like it would be the first toy in my collection to offer both of those features in a palm-sized package.
And in that sense, it succeeds. The slightly curved shape and plush silicone cradle my vulva perfectly — this is maybe the most comfortable vibrator I have ever used. And it is definitely a rumbly motherfucker, containing not one, but two of the motors from the legendary We-Vibe Tango.
This vibe was shaping up to be a home run for me. Until I actually tried masturbating with it, and then everything fell apart.
I don't know whether this was an attempt at innovation or just the downfall of dual motors, but with this toy We-Vibe has decided to do away with those pesky tried-and-true steady vibration settings and instead introduce my new nemesis: PowerPulse™.
They describe this "exclusive" new vibration style as feeling like "waves of pleasure," but what it truly feels like is a glitch. The PowerPulse settings alternate, seemingly at random, between fast pulsation, a wave effect, brief instances of steady vibration, and a weird bug where the vibration seems to leap back and forth between the two motors. It's entirely erratic and unpredictable. And it's completely useless if you need any semblance of consistency with your clit stimulation.
As I've mentioned many times before, vibration patterns don't do anything for me. Steady vibration is where it's at. But the Wish doesn't even provide one steady setting. After the three PowerPulse levels, there are another seven patterns.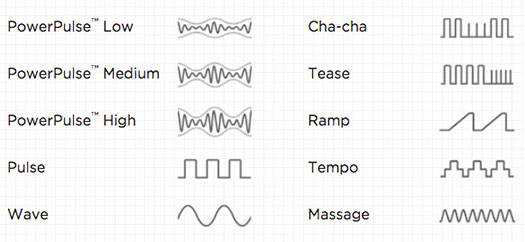 A secret eleventh setting that isn't mentioned anywhere in the manual is the closest thing to steady vibration this toy offers. But even with that I can still feel an obvious and distracting dissonance between the two motors, and with the toy's single button there is no way to adjust the intensity of that setting on the toy itself.
Single-button controls are one of my biggest sex toy pet peeves. If I'm on the second setting of this vibe and want to get back to the first, I have to click the button eleven times. And it's not even an easy button to press — it requires some real effort and force to push down.
The design of this toy seems almost hell-bent on forcing you to use the We-Vibe app. It's the only way you can adjust the intensity of the patterns. It's the only way you can create an adjustable steady(-ish) setting, by going to the create a pattern mode and literally drawing a straight line.
It's the only way you can access the toy's highest intensity settings, which is something I didn't even notice for ages. The third and highest PowerPulse setting in the toy itself only reaches a 7/10 on the app's strength meter, and only through the app can you actually increase it to 8, 9, or 10.
Call me a traditionalist, but I don't want to have to fuss with my phone when I'm masturbating. My hands are a bit pre-occupied, and they're probably also covered in lube. I think having the app is a great option (especially for accessibility for people who aren't able to reach down to change settings or don't have the finger strength for that goddamn button), but it shouldn't be a requirement to get full use of the toy.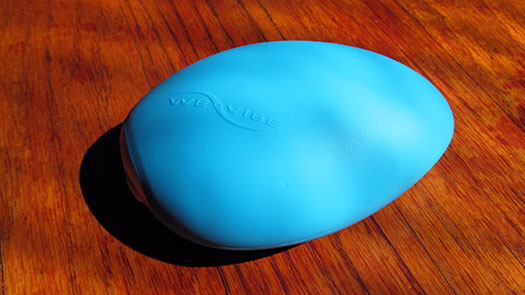 The We-Vibe Wish piqued my interest and then dashed my giant, squishy vibrator dreams. If this toy had real steady settings and better controls, it would literally be my perfect clitoral vibrator. There are other great external vibes out there — the We-Vibe Touch gets an A+ from me — but nothing else has had that ideal combination of strength, squish, and broad stimulation that my clit dreams of.
I will have to keep searching.
---
Get your own We-Vibe Wish at Peepshow Toys