Viberry sent me their toothbrush vibrator! It's… interesting.
Where to Buy:
Other Toys Mentioned:
Eroscillator
(Hitachi) Magic Wand

This is one of the sillier things that's ever come in contact with my genitals.
If you think this toy just looks like an Oral-B toothbrush with a plastic attachment… that would be because it's an Oral-B toothbrush with a plastic attachment.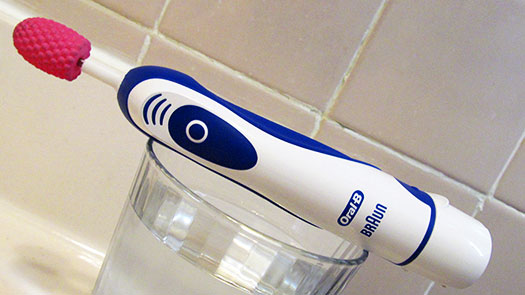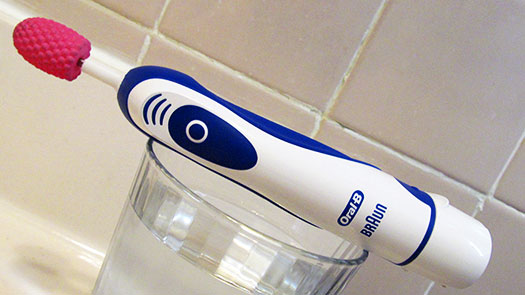 This is the Viberry. According to their website, the idea came about when the founder, like many people, discovered that her electric toothbrush could double as a clitoral vibrator.
So she decided to create a 3-D printed attachment that could allow people to use their toothbrushes as vibrators in a more hygienic and, possibly, pleasurable way.
And as a concept, I don't hate that. If it's making sex toys and masturbation accessible to more people, that's awesome! So when they invited me to test one out for review, I jumped on it.
But as I explored their website, things started to get weird…
My toothbrush vibrator was born out of the desire to make it easier for women to enjoy the life-changing benefits of clitoral stimulation even without going through the hassle of owning a sex toy.
Owning a vibrator is, like, really hard, you guys.
ENJOY YOUR FIRST SEX TOY BUT KEEP YOUR INNOCENCE – Most vibrators look like instruments of torture but VIBERRY™ is cute and discreet. You'll use it outside of the body meaning that your innocence will remain intact.
Yikes. I shouldn't need to tell you all that the idea of "innocence" being tied to virginity, or not inserting things into your vagina, is a bullshit concept.
And several of the articles in their blog section are straight-up stolen from other writers and sex educators, so that's always fun.
Both the product website and a card that came in the box say to only use the Viberry over underwear. I don't really get that — the website purports that it's to do with hygiene, but since underwear is permeable to fluids you should really be washing the whole thing after every use anyway. I wonder if it's actually because the berry head is porous, but because they're not entirely clear on what it's actually made of, I have no way of knowing.
All they say about the material is that it's 3-D printed with "hard biodegradable thermoplastic derived from renewable resources." That doesn't tell me much. Is it resin? Is it corn-based plastic? Is it something else? I dunno. What I do know is that my black underwear managed to stain it on the first use, and that concerns me.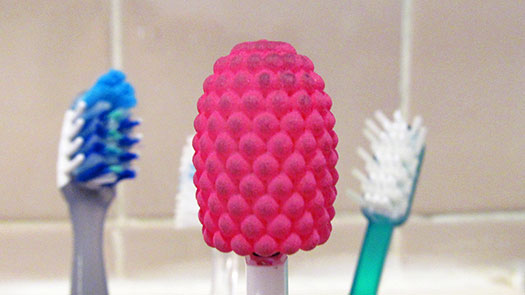 That said, I wouldn't really want to use this toy directly on my clit because just touching it to my bare arm it feels EXTREMELY abrasive and leaves visible white scrape marks. That texture is fucking rough. Even through my underwear, it's still kind of abrasive, but the fabric does provide enough of a barrier that I can tolerate it. But if you can't tolerate it, you're kind of out of luck because it's not like you can really use lube on your underwear to make it more comfortable.
Something I find really funny is that one of the main selling points of the Viberry is that it's supposed to be oh so discreet, but that completely goes out the window the second you turn it on because it sounds like a fucking power tool. And unlike most vibrators, this one actually gets louder when its in contact with the body. Amazing.
It's important to note that this toy isn't a true vibrator in the traditional sense. It actually has an oscillating motor, which means that the head turns side to side and rubs against the body (at a speed too fast for my camera to capture).
Now, I will say that the oscillating motion of this toy does feel good. I've never tried the Eroscillator, which is the premier oscillating sex toy — but if that's what it feels like, I totally see the appeal.
However, because this is a toothbrush, it of course only has one speed. So inevitably after a minute or so of use when I want to turn up the intensity, I don't have that option. No matter how hard I've tried to ride it out and orgasm with this thing, I can't. It's just not strong enough, and I always end up having to pull out another vibrator to finish.
This is funny, because the Viberry website repeatedly proclaims that this toy is "almost 2x more powerful than the Magic Wand." Let me be clear: There is no planet on which this is true.
They say this because Oral-B electric toothbrushes have a higher RPM (motor rotations per minute) than the Hitachi Magic Wand. But people who know vibrators know that RPM doesn't correlate to power so much as speed. Toys with higher RPMs vibrate really quickly — and that's not always a good thing, as high RPM toys tend have really buzzy, surface-level vibrations. And the Viberry is definitely on the buzzy end of the spectrum, but it doesn't have Magic Wand-calibur power to make up for it.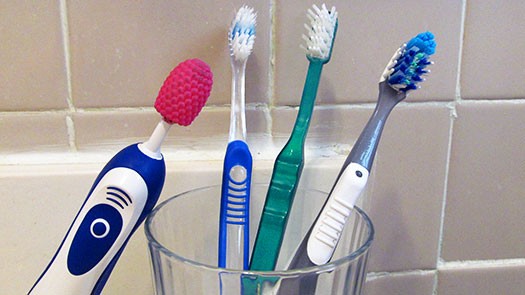 I was sent a Viberry kit, which includes both the Oral-B Advance Power 400 and the berry attachment. But the attachment also fits other Oral-B electric toothbrushes, so if you already own one you can just buy the tip.
However, with other models you might run into issues with timers. Many Oral-B toothbrushes have a set timer and alert system where the motor will stop and start again at either 2 minutes or 30 seconds. Viberry paints this as a feature, saying that it'll train you to orgasm faster and close the "orgasm gap" between men and women. Personally I think my vibrator repeatedly shutting its motor off after a ridiculously short amount of time would be more of an orgasm killer, but hey, what do I know?
If you just want the berry tip, this tiny piece of plastic costs about 30€. That's a little over 30 bucks in US dollars, and for that price I can name several actual vibrators that I think are more worth it — toys that can be used directly on skin, that have multiple intensity settings and clearly stated materials that you can trust to be body-safe and non-porous. If you want the berry tip with the brush included, it's closer to 48€/$51, which would widen that net even more.
Overall, I don't like this thing. If we're just talking about the product itself, I think it's mediocre. But the weird sex-shaming marketing sours my taste for the Viberry to the point where I get a little bit angry every time I look at it. I don't think I'll ever be using this for masturbation again, but at least I got a free toothbrush out of the deal.
What are your thoughts on this toy? Let me know down in the comments.
Thanks for watching, and I'll see you next time!