My thoughts on the Fun Factory Stronic Eins, sent to me by Fun Factory!
Where to Buy:
Fun Factory
SheVibe
Lovehoney (US)
Lovehoney (UK)

This review has taken me a ridiculously long time to do for a few different reasons, but mainly because of the dissonance between how my vagina feels about this toy and how my brain feels.
Let's get this out of the way first: the Fun Factory Stronic Eins is a nearly $200 sex toy.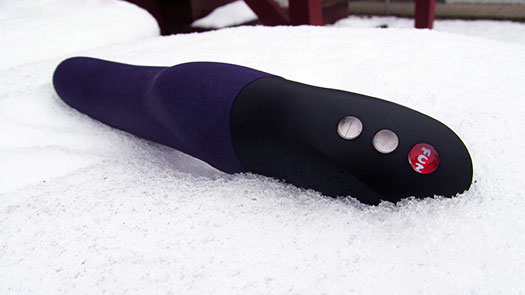 I never know whether to talk about price in my toy reviews. Sometimes I feel like I should only discuss the faults and merits of the product and let consumers determine their own feelings about the cost because A. my reviews are about my personal experience with the toy, and price doesn't tend to factor in when companies send me things, and B. everyone's obviously in different financial situations, and "expensive" can mean very different things for different people.
But at the same time, I know my audience. I talk to you guys. I know your demographics. And I don't want to feel like an asshole waving around a $200 vibrator and shouting, "YOU ALL NEED ONE!" while knowing full well that, in all likelihood, most of you can't afford that. I mean, I'm a YouTuber — I sure as hell can't afford that. I just want to be realistic here, y'know?
First, let's just discuss the toy itself.
The Stronic Eins is what Fun Factory calls a "pulsator," meaning that instead of having a traditional vibrating motor, it actually has a weight inside of it that moves back and forth in a thrusting motion.
They have several other different Stronic designs, including a rabbit and one made for prostates. I was advised by a Fun Factory rep that the textured Drei model is the most popular, but I've heard from reviewers who've had trouble with it locking behind their pubic bone and refusing to glide freely. I've had pubic bone issues with toys before, so I opted for the Eins and its slightly curved, no-frills shaft.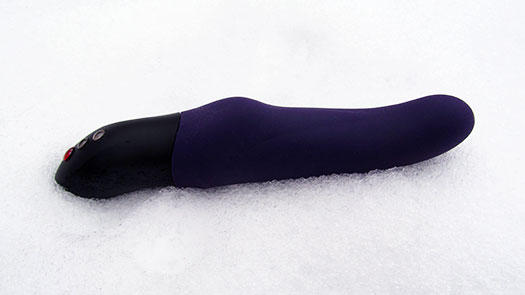 The Fun Factory Stronic Eins does not come with a storage bag, which is ridiculous, because if any toy needs one, it's this one. It will attract every bit of dust and hair in a five-mile radius.
The silicone, like on a lot of Fun Factory other toys I've felt, is also very matte and draggy. This toy actually has some of the draggiest silicone I've ever felt — it's even slightly grainy, which is just weird. You definitely need to be generous with the lube for this toy to glide comfortably.
That said, once it is gliding comfortably, this thing feels phenomenal. It took a bit of getting used to, figuring out that gripping the toy at all would impede its movement and determining which of the 10 different pulsation modes worked best for me. (I'm partial to Gallop, Rumble, and Rumba, if you're wondering.)
The hallmark of the Stronic is, in my opinion, consistency. Humans are not consistent. When I'm manually thrusting a toy, my hand can get tired, my timing can falter… I'm rarely able to thrust through an entire masturbation session. But with the Stronic Eins, it does all the work for me. I can increase or decrease its speed at the touch of a button, and it hits my G-spot with an accuracy I never anticipated based on its fairly straight shaft. I love this thing. A lot.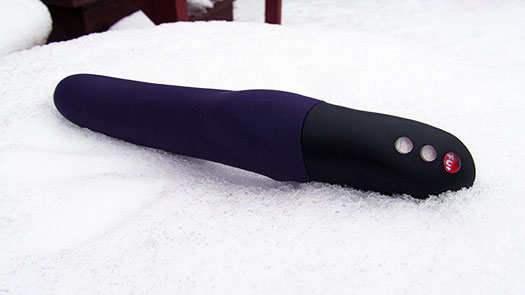 Now, let's get back to the price tag.
Who do I think this toy would be worth the price for?
If you're a sex toy aficionado who looks at this thing and thinks it's the coolest shit ever, I think it might be worth adding to your collection.
There are a lot of hands-free positions and nearly hands-free positions this toy can be used in. As long as it has something to brace against to keep it from sliding out (a pillow, a couple of fingers, the heel of your foot if you curl your legs up) it doesn't need to be held onto, which could be great for folks with certain disabilities that have difficulties thrusting a toy themselves.
If you can afford it and you really want it, I don't think you will be disappointed. If you can't afford it, though, don't worry — there are so many incredible sex toys out there that can be had for way, way less money.
I love my Fun Factory Stronic Eins, but I don't think it's necessary to life. I'm super happy to own it, and you can pry it out of my cold, dead hands. But if something happened to it, would I run out and cough up the money replace it?
I honestly don't know.
---
I really hope something in this jumbled mess of thoughts was helpful. Let me know your thoughts on this toy down in the comments!
Thanks for watching, and I'll see you next time!