A comprehensive guide to accessible sex toys!
Sponsored By:



Products Mentioned:
Peepshow Toys "Erika Lynae's Disability Picks"
(Use the code ERIKA for 10% off!)
Resources:
The Ultimate Guide to Sex and Disability
Disability After Dark
ChronicSex.org

In the 1970s, Gosnell Duncan, a man with a spinal cord injury, came out with the first ever line of silicone dildos, paving the way for the body-safe sex toy movement as we know it today. Duncan's inspiration came directly from his disability activism and conferences he attended — he wanted to create a product that could help people in his community to more easily have sex and masturbate.
In the decades since then, the sex toy industry has boomed. And with that boom has come an abundance of products suited to a whole host of disabilities. Today I've teamed up with body-safe sex shop PeepshowToys.com to give you a rundown of some of the best options out there!
---
I do want to say that I am by no means an expert on disability. I do have a neurological condition that affects my life in innumerable ways, but sex has never been one of them. For this video I have combined my extensive knowledge of the sex toy industry with a huge amount of disability research and input from my disabled friends, and I've put together a list of over 30 products with accessibility features compatible with a variety of physical limitations. Everything I talk about in this video will be linked in the video description.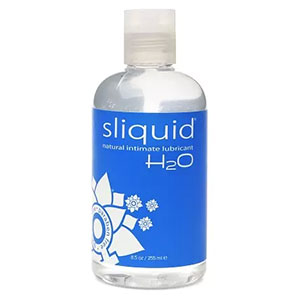 The first thing I want to mention is an important staple for pretty much everyone, and that is lube. No matter what sort of stimulation you're going for, most people find that things feel best when they're nice and slick.
Lube is especially important if you're stimulating an area that you don't feel much or any sensation in. If you're inserting something into an orifice that has no feeling, for example, you need to be extra cautious about avoiding damage to the area. Some conditions and medications can also prevent people with vaginas from producing their own natural lubrication, so bottled lubricants are a great alternative. I've done two previous videos about lube basics and lube safety, and I definitely recommend checking those out for more information.
Now let's get into hands-free sex toys.
These are toys that don't need to be held onto after they're in place, which make them great for people with a wide range of disabilities. Two of my top recommendations for hands-free toys come from the brand We-Vibe.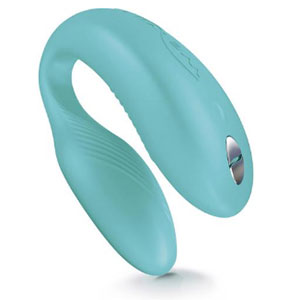 First we have the We-Vibe Sync, which is marketed as a couple's vibrator that can be worn during penetrative vaginal sex. I have one and personally don't like it very much for that use — I much prefer it as a solo vibrator. The Sync is great because it has an adjustable hinge to fit a lot of different bodies, and it has both a remote control as well as app controls, so once it's in place you don't even have to reach down to change settings.
My second suggestion for hands-free toys is the We-Vibe Tango coupled with the We-Vibe Dusk. The Tango is famous for having one of the most powerful, rumbly motors out there packed into a small bullet vibrator. The Dusk is an attachment that is meant to be a butt plug, but sex toy reviewer Epiphora, always the innovator, discovered that it can actually function brilliantly as a vaginal plug to hold the Tango right up against the clit.
I also want to recommend the Fun Factory Layaspot, which is literally a lay-on vibrator. It's contoured to the shape of the pubic mound, so you can either lay it on the vulva or flip yourself over and lay your body against the vibrator for hands-free stimulation.
Propping a toy up against pillows or furniture can also sometimes make it hands-free. If you have a large wand vibrator, the Liberator Axis and Liberator Wanda are combination positioning aids and wand mounts that you can straddle, sit on, lay on, or lean against to use your wand hands-free.
Wands in general often make excellent toys for disabilities.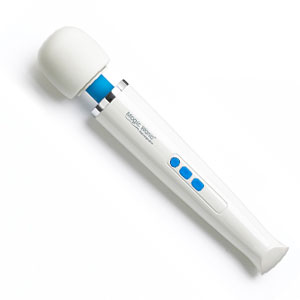 They tend to have nice, long handles and be exceptionally powerful. They're not genital specific, they can double as an all-over body massager, and their large heads mean that they don't require a lot of coordination to hit the right spot.
I'm going to talk about two wands in particular. The Magic Wand Rechargeable is the updated version of the classic Hitachi Magic Wand. It's huge, powerful, and can be charged and used cordless or used plugged into the wall. It does have some downsides — it's heavy, and it's loud — but it is easily one of the most popular toys among folks with disabilities. You can also combine it with the Vixen Creations Gee Whizzard wand attachment to create a powerful insertable vibrator with the same long handle.
There's also the Tantus Rumble, which was made specifically with accessibility in mind. It's not as powerful as a lot of other wands, but it's incredibly lightweight, with simple controls and a removable silicone head for easier cleaning.
Some sex toys have specialized handles that make them easier to use for folks with reach or grip issues.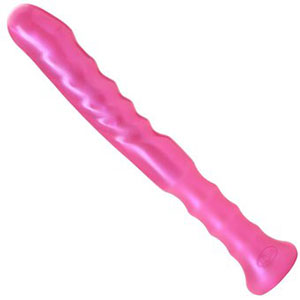 Manufacturer Tantus has a few dildos with extra long handles, including the Echo Handle, Goddess Handle, and Anaconda Handle. If you have trouble with grip, a toy with a looped handle that you can put your fingers through could be easier to hold on to. Fun Factory does several toys like this, including insertable vibrators as well as dual-stimulating rabbits, and the Nobessence Fling is a gorgeous wooden dildo with an interesting two-finger handle.
I really wanted to include a finger vibrator in this video as well — one that can slip on like a ring and you don't have to hold at all — but unfortunately, a lot of those tend to be pretty weak and buzzy. However, a vibrating cock ring like the Je Joue Mio could be a good alternative. The ring should be able to fit nicely around two fingers, and the motor is easily superior to most of the ones in traditional finger vibes.
Then we also have the Rocks-Off Rise, a vibrating penis masturbator with a large loop handle that you can get four fingers and your entire palm in.
Speaking of penis-specific toys, there's a few more of those that I want to get into.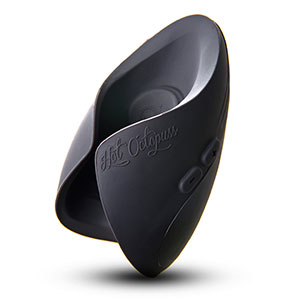 One is the Hot Octopuss Pulse. This is a really cool vibrating penis masturbator that can be used flaccid or erect and was developed intentionally to be useful to disabled people, specifically folks with limited mobility and erectile dysfunction. The Pulse comes in two versions, a Solo version that's just a masturbator and a Duo version with a second set of vibrations on the outer side of the toy that can be straddled by a partner.
Cock rings are a great option for people who have trouble maintaining an erection, as they can constrict blood flow to keep blood in the penis shaft. They can be worn around the shaft and balls or just the shaft, and they come in a wide variety of materials, sizes, rigidities, and shapes. A few specific cock rings I recommend are Tantus's silicone rings, Nobessence's Rendezvous wooden rings, the aforementioned vibrating Je Joue Mio, and I'm not even going to try to pronounce the name of this one (Velv'Or J-Naja). Keep in mind that a cock ring should not be worn for longer than 30 minutes.
For people who can't get an erection but still want to penetrate somebody, strap-ons can be fantastic. There is actually a harness called the Spareparts Deuce that is made specifically for people with penises. It's got two holes, meaning that you can be wielding a dildo and still have access to your penis. If you don't want to wear a harness, Vixen Creations also make silicone penis extenders, which are sheaths that can be worn over the penis.
Some folks who lack sensation in their genitals find that they particularly enjoy anal stimulation.
There's a whole wide range of butt toys out there from plugs to beads to dildos to prostate massagers, but I'm just going to talk about a couple.
Doc John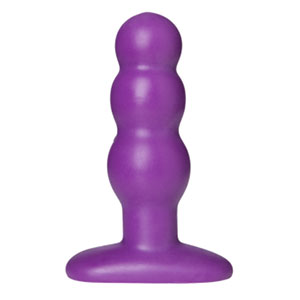 son's TRUSKYN butt plugs are made from super soft, dual-density silicone, which makes them fantastic for anyone who's new to anal play or concerned about hurting the area.
The b-Vibe rimming plug has a vibrating tip and rotating beads towards the base to stimulate right at the entrance. It's also remote-controlled, so once it's in place changing settings doesn't require reaching down.
If you want to wear a butt plug while in a wheelchair, I would suggest something with a thinner base that can fit nicely between the cheeks as opposed to something more rounded, because those tend to be the most comfortable and least obtrusive to sit on.
Finally, I have a few more miscellaneous suggestions for you.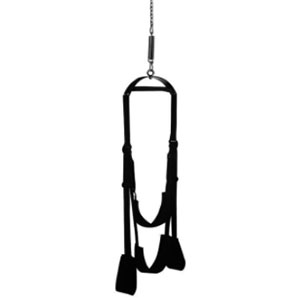 Sex swings can be brilliant for people with a variety of different mobility and fatigue issues, as they can allow for much more movement and take the weight off of joints and limbs during partnered sex. The company Liberator also produces an array of positioning aid pillows like the Wedge and Ramp. They're firmer than regular pillows, feature an inner moisture barrier lining, and are designed specifically to make sex positioning easier.
I've seen the Womanizer — a sort of suction toy that uses air pulsation technology — recommended by disabled sexologist Bethany Stevens as a potentially good choice for folks with arthritis, dexterity issues, lack of muscle control, etc. It's lightweight, only requires a light grip, and doesn't need to be moved once it's in the right spot. Besides clits, it's also good for stimulating penises, nipples, necks, armpits… Pretty much any erogenous zone where you can get the head to make a seal. If you've seen my Womanizer review, you know that I'm also a fan of this toy. Though it should be noted that the manual for it does include a really ableist disclaimer.
Kegel exercises to strengthen the pelvic floor are often recommended for people dealing with incontinence, and increasing muscle control down there can also have positive sexual effects. One product that I recommend to help with Kegels are the Jopen Stella beads. These are Kegel beads with smaller, free-moving balls inside of them to stimulate the vagina and encourage muscle clenching. They come with either one, two, or three beads and include multiple different weights for each bead, so you can customize them to work best for you and adjust the weight as necessary.
Lastly, thigh harnesses, like this one from Sportsheets, are a great, versatile tool for a lot of different disabilities. Just pop a dildo in it and strap it to a thigh for a partner to ride. Or, because it's so adjustable, you can actually get creative with where on the body you strap it, allowing for an array of different position possibilities. It can also be wrapped around a pillow to hold a dildo in place for masturbation.
---
For more information on sex and disability, I'm going to direct you to three places.
First is The Ultimate Guide to Sex and Disability, a book that is exactly what it sounds like. It's full of really great information and advice, and it's an excellent resource for anyone living with a disability and trying to navigate the world of sex.
Second is a podcast and blog by Andrew Gurza called Disability After Dark. His website says, "DisabilityAfterDark hopes to shine a big, bright light on sex and disability, and go deeper into the topic than ever before."
Third is ChronicSex.org, a website all about chronic illness and sexuality. They do a lot of really great articles and community chats on Twitter, and their Resources page is an absolute treasure trove of links and recommendations.
Thanks again to Peepshow Toys for sponsoring this video! They've also given me a coupon code for you all, so if you get anything from their site you can use the code ERIKA to get 10% off!
If you have a disability and aren't sure if any of the toys I mentioned would fit your specific needs, feel free to send me a message and I can give you more personalized recommendations. If you have a disability and love a certain toy that I haven't mentioned, leave your own suggestions down in the comments.
As always, thanks for watching, and I'll see you next time!