I tried out a toy from Lovehoney's new luxury range — the Desire Wand!

Hey guys! Today I'm going to talk about the Lovehoney Desire Wand, which was sent to me by Lovehoney in exchange for my honest review.
I'm really resisting the urge to sing into it like a microphone.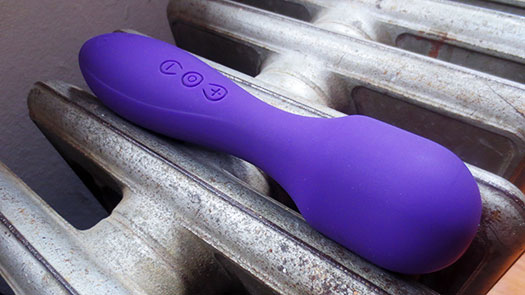 As the name suggests, the Lovehoney Desire Wand is from Lovehoney's Desire range, which is their new line of luxury toys. Though the line is significantly less expensive than traditional "luxury" toy brands like LELO or Jimmyjane.
It's obviously really sleek. It's a nice medium size. Ergonomically shaped, comfortable to hold. The silicone is silky smooth. It does have this hard plastic panel in the back that I don't really understand, but it doesn't affect the use, so whatever. You charge this toy by impaling the base with the end of the charging cable. Despite this, or because of this (I have no idea), the toy is completely waterproof.
The Desire Wand comes with this hard-shell toy case instead of your typical satin storage bag. I think this is a really nice touch and infinitely more useful. The zippers have interlocking rings that you can put a small padlock on. Inside you've actually got room for more than one toy. There's a velcro pouch that can hold things like charging cords, and there's even a hole in the back you can run a cord through for discreet charging. I'm actually really impressed by this. Like, I will use this.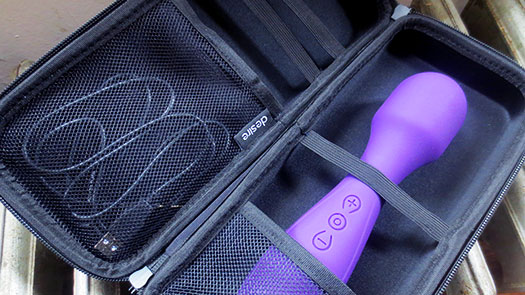 I had no idea what to expect in terms of vibration from this thing, but for a rechargeable wand it's surprisingly powerful. Obviously it's not on the same level as wands that can plug into the wall and sound like power tools, but it can definitely hold its own in my toy collection. I can get off with it through my pants no problem.
It's got 12 vibration speeds controlled by the plus and minus buttons that start off deep and rumbly and get buzzier as they go up. But even the highest speeds are rumblier than something like the Magic Wand, and I never find myself getting itchy or numbed. It's also got 8 vibration patterns controlled by the center button, but I never really use vibration patterns, so that's irrelevant to me.
My only complaints about the Desire Wand are that I wish the head was a bit more flexible — it's got a little bit of flex to it, but I'd like a smidgen more — and that I wish it had an easy off button. As it is you have to hold down the minus button and cycle all the way back down through the speeds in order to turn the toy off, and it can take a good five or six seconds depending on what setting you're on.
Overall though, I really, really like the Lovehoney Desire Wand. It covers all the bases: It's simple to use, it looks and feels luxurious, and I think it's powerful enough to satisfy most people. Good work, Lovehoney!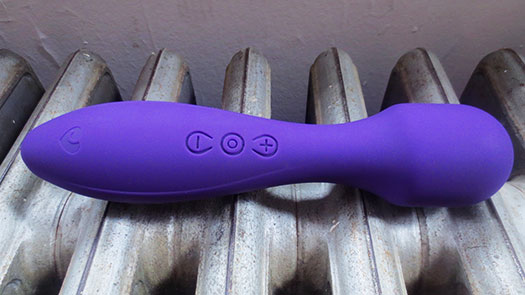 In other news, if any of you guys are going to be at VidCon next weekend, you should totally come say hi to a certain purple-haired sex vlogger who will also be at VidCon! (It's me.) I'm super looking forward to it. For those of you that won't be there, if all goes according to plan there should still be a video next week, so keep an eye out for that.
Thanks for watching, and I'll see you next time!