I tried the Jimmyjane Form 5. It makes my vulva sad.
Where to Buy:
SheVibe (SheVibe somehow has them for $89, so if you're going to get one, that's the best deal)
Other Toys Mentioned:
We-Vibe Touch
Je Joue MiMi Soft
Flutter Wand Attachment

The first Form 5 I was sent was defective straight out of the box. It wouldn't take a charge, and it wouldn't turn on. Then I got my replacement.
I think I liked it better when it wouldn't turn on.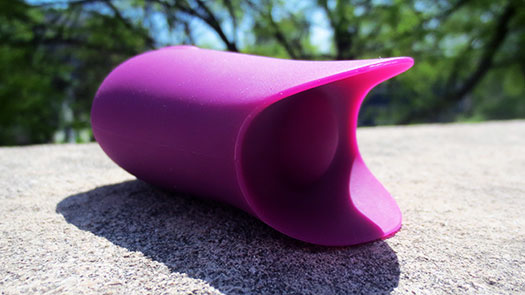 Hey guys! Today I'm here with a review of the Jimmyjane Form 5. I was planning to review this toy a few months ago as part of my Odds and Ends mini review series over on my blog, but it is such a baffling piece of shit that it really deserves its own video.
When I won this toy in an Advent Calendar sex toy giveaway last December, I was hesitantly optimistic. I'd never owned a Jimmyjane toy before, and I'd seen mixed reviews for them. I knew the company was mad pretentious, but so is LELO and I really like some of their stuff. So I charged it up for the full eight fucking hours recommended, laid back, and turned the toy on.
Holy shit. I'd heard Jimmyjane toys were on the buzzy side, but nobody warned me about the awful high pitched sound that accompanies the vibrations on the lowest levels. It's like instead of having a motor they opted for a tiny swarm of shrieking cicadas to power this toy. It's not just annoying, but it's so grating that it actually makes the hairs at the back of my neck stand on end.
But no matter. I'll just turn on some music and try to ignore it. Here, let me consult the manual to figure out how I'm actually supposed to apply this thing to my genitals because it looks like a duck's bill and that's just weird.
Suggested Use #1:
Jab your labia with the inadequately flexible wings while you struggle to get the "Pleasure Dome" to make contact with your clit.
This went about as well as you'd expect.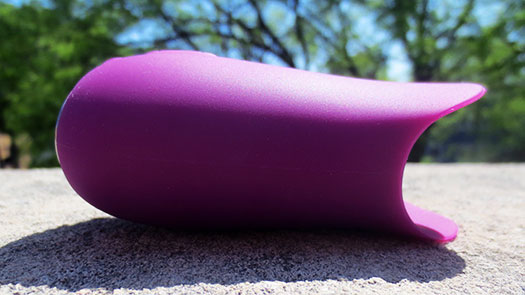 Suggested Use #2:
Place the edge of one of the wings against your clit, while the other one awkwardly vibrates your upper thigh and the space between it and your vulva.
I'm not one for super pinpoint clit stimulation in any situation, but especially with vibrations this buzzy it becomes uncomfortable and numbing very quickly.
After that I guess Jimmyjane ran out of ideas because the last suggested use "For Her" is just jamming it against your nipple. Thanks, but no thanks.
While looking through the manual I also notice that under the Warnings section it says, "Close supervision is necessary when this product is used by, on, or near children, invalids, or disabled persons." So… that's great.
The only use I've found that gets me any inkling of pleasure out of this thing is just flattening one of the tips against my clit, but then the other one is still poking at my thigh and the vibrations are still really buzzy and surface-level. I've never had an orgasm with the Jimmyjane Form 5, not because I can't, but because I can't be bothered.
Pretty much within seconds of putting this toy to my genitals, I wish I could be using something else. Something with deeper vibrations and a shape that makes sense. Something that doesn't produce a noise that makes me want to chuck it across the room as soon as I turn it on. Sure, the Form 5 has some redeeming qualities. It's rechargeable, it's waterproof, and it's fairly powerful if you can deal with the buzziness. But it's also $145, so fuck that.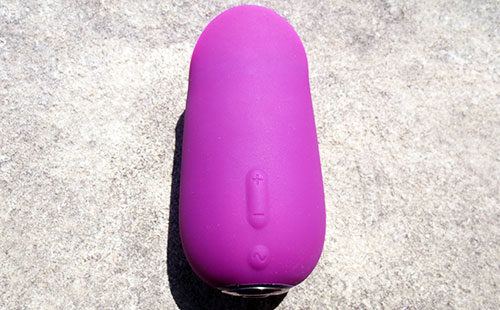 If you want a good silicone clit vibrator, get the We-Vibe Touch or the Je Joue MiMi Soft. I'll link these in the description. If you want something to flutter against your genitals like those wings are supposed to, get a wand vibrator and the Flutter attachment. If you want to vibrate your nipples, use literally anything.
So what are your guys's thoughts on this toy? Let me know down in the comments!
Thanks for watching, and I'll see you next time.