Since so many of my reviews are of products sent to me by sex toy companies, I don't often get a chance to make review videos for toys I buy myself — which is a shame, as they're often really good!
So I'm starting a new post series here on the blog of mini-reviews of toys that I don't have time to review on my YouTube channel.
I bought this dildo in Ruby's moving sale after having lusted after it for years. I love squishy dildos, and I love Tantus, and the Pack 'n Plays are probably the squishiest dildos Tantus have ever come out with.
It's like this toy was made-to-measure for my vagina, as it's seemingly the exact length and width as my vaginal canal. I usually tend to go for slightly girthier dildos because I love a good filled/somewhat stretched sensation, but the Pack 'n Play No. 2 invaluable for days when my cervix is particularly sensitive or I just want something less intense. Squeezing around it feels lovely, whether it's with my vaginal muscles or just with my hands. (Dildos that double as stress toys are always endlessly amusing to me.)
Great toy. I definitely recommend it.
I owned a set of these previously, but having lost the holster years ago, I knew it was time to pick up a replacement set when Ruby put hers up in her moving sale.
They're still easily my favorite Kegel beads. I love the feeling of the inner balls rolling around when I move. I love clenching around them and making them roll just with my muscles. I love the noticeable vaginal fatigue when I take them out after a long day of use.
Hula hooping with my Luna Beads in is probably my favorite activity, but even just walking feels pretty delicious. Whether you want Kegel beads for exercise, stimulation, or both, these are definitely the ones I'd recommend. They're a classic for good reason.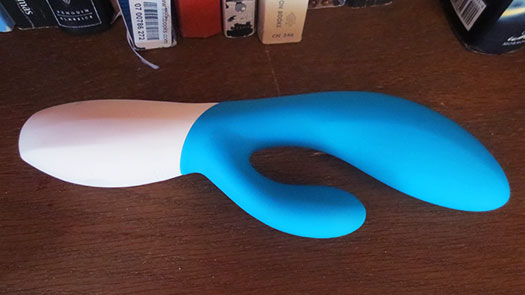 This toy I actually won. It was sent to me by PleasureTease for coming in at #1 (!!!!!) in the Top New Sex Blogs category of Kinkly's Top 100 Sex Blogging Superheroes of 2015 contest.
I expected to hate this toy. To be honest, I kind of wanted to hate this toy. It's no secret that I'm not LELO's biggest fan and think so many of their latest toys, including the Wave line, prioritize shitty gimmicks over actual pleasure and functionality.
And yet, I actually like this vibrator.
Don't get me wrong, there are a lot of things I find annoying about it. The Wave motion feels pretty underwhelming, yet it makes a really horrible sound. (Eyes closed, it sounds like someone's about to drill into my vagina.) To enjoy the Wave settings at all I have to death grip the handle, otherwise my vaginal muscles just hold the shaft in place and the handle starts moving back and forth instead. The vibrations are nothing to write home about. It's significantly weaker than it's predecessor, the Ina 2, which is a major bummer. Especially since this toy costs fucking $199.
But with the vibrations turned up all the way, the Wave motion on, and the arm clamping the absolute shit out of my clitoris, the Ina Wave gives me explosive, wonderful orgasms that almost make me forgive LELO for all their nonsense. Almost.
I really enjoy this vibrator, but I can't say I recommend it. It's massively overpriced, the gimmick is unimpressive, it's very anatomy dependent (both in terms of where your clit is and whether it enjoys serious clampy pressure), and the vibrations are weaker and buzzier than they rightfully ought to be. If my Ina Wave died, I probably wouldn't replace it with my own money. For dual-stimulation, I'd go for the Jopen Vanity Vs6 (for its lower price, higher power, and similar clampy arm my clit loves) or the L'amourose Denia (for its equivalent price but much stronger, rumblier vibrations). I've also got a We-Vibe Nova on its way to me currently, so I'll report back on how that compares after I've gotten to test it. (Update May 2016: I think the Nova is an objectively better toy, but as it doesn't fit my anatomy very well, I still find myself reaching for the Ina Wave more often.)
---
I was going to review a fourth toy in this post, but it's turned out to be so laughably terrible that it definitely deserves a main channel video. I'm not sure when I'll get a chance to make that (I have several reviews for companies that I'll need to get through first), but it will be worth the wait. I promise.
Let me know what you think of any of these toys! Do you have any of them? Do you want any of them? I'd love to hear your thoughts!