My thoughts on the Pleasure Works Rookie and Silver Bullet!
Where to Buy:
Rookie
Silver Bullet
Wild Hare Sleeve
Diving Dolphin Sleeve
Sex Toy Copycats — Is it improvement or shitty business ethics? – DangerousLilly

Hello hello!
Today I'm very excited to be doing a review for Good Vibrations, one of the original body-positive, woman-focused, education-based sex shops. They've kindly sent me some toys from their Pleasure Works line in exchange for my honest review, so today let's talk about the Rookie and the Silver Bullet.
The Rookie is this realistic-ish silicone dildo that I consider to be somewhere between small and medium at 5.75" insertable and 1.25" diameter. It's sold as a "vibrating dildo" because it's got this hole in the base that they also send a little bullet vibe to put in, but as with most toys of this sort I just use it as a standard dildo. Let's talk about that base though! It's nice and chunky, which would make this toy really stable in a harness. If you want to peg or be pegged, this could be an awesome starter dildo for just that purpose.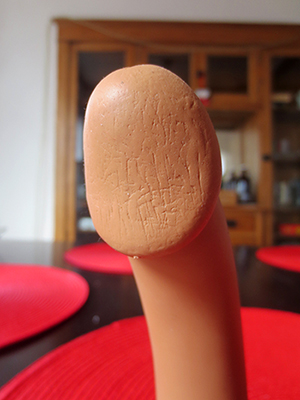 But I also think this could be an awesome starter dildo for solo use! It's a basic toy at a manageable size for most, and it doesn't skimp on the pronounced head. That head rubs right up against my G-spot, as it should. It's got this weird texture that I'm not sure will pick up on camera. I think it's meant to look like wrinkles and pores? It just looks like scratches to me, but either way it adds some wonderful drag that really helps the head tug on my G-spot in an even more satisfying way. And it would likely do the same for a prostate, if you've got one of those. Overall, I like the Rookie.
Now, on to the Silver Bullet. Good Vibes call it the "'little black dress' of the vibrator world," and I'm inclined to agree. It's a toy box staple — simple, sleek, does what you want it to do. I actually listed the Silver Bullet as one of my Top 10 Sex Toys Under $30 over on my blog.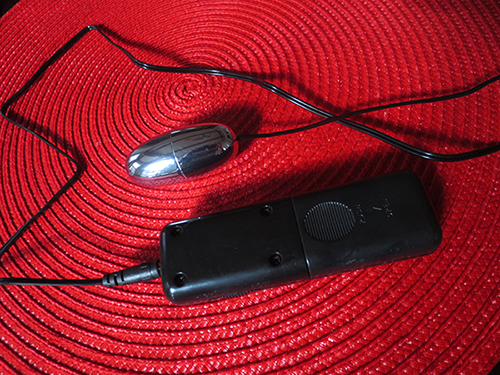 Now, lots of companies sell these sorts of silver bullets, and I can't say how any others compare, but this one is excellent. It's got a wide range of vibration intensity. I can count about twelve or thirteen different levels, but it's hard to say for sure because the vibrations are controlled by this incremental dial rather than by push buttons. It's dead simple to use, and it's actually really fun for partner play because the controller can be handed off to another person.
It also plays nice with Pleasure Works' vibrating dildos like the Rookie because the lower half of their vibrator cavity is actually wide enough to hold the Silver Bullet, and the Silver Bullet is significantly more powerful than the watch battery bullet included with their vibrating dildos.
If you're looking for a starter vibrator on a tight budget, the Silver Bullet would be a really great choice. And what's also cool is that Good Vibes actually sell a couple of silicone sleeves that fit over the Silver Bullet, so you can slide them on to change the sensations and enhance grip.
While I really like both of these toys and I completely adore Good Vibes, there is a little bit of an elephant in the room when it comes to their Pleasure Works line as a whole. I don't really want to complain about it here, so I'm going to link to an article by the wonderful Dangerous Lilly that's all about sex toy manufacturers copying designs from other companies. It's worth a read if you're interested at all in the ethics side of the sex toy industry.
So I do have some reservations about this particular line of toys, but I do wholeheartedly recommend Good Vibrations as both a retailer and an educational resource, and if I'm honest, I do still recommend both of these toys for their quality, body-safety, and price-point.
What do you guys think, about either these toys specifically or industry ethics in general? Let me know down in the comments. Thanks for watching, and I'll see you next time!