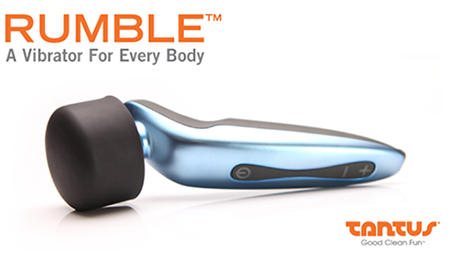 Update: The Rumble is finally out and available for purchase on the Tantus website!
What's this? A vibrator made specifically with accessibility and gender/sex neutrality in mind? That explicitly acknowledges disability and diversity of bodies? Made by the body-safe sex toy pioneers and all-around awesome folks at Tantus? Sign me the fuck up!
Nobody asked me to talk about this; I am just SO INCREDIBLY EXCITED about this thing that I needed to share it with you all.
The Rumble is currently being crowdfunded on Indiegogo, and they're just over halfway to their goal with a little over a month left. If you help make it happen, perks include your own heavily discounted Rumble and some sweet Tantus swag.
I can't wait to get my hands on this thing and use the Convertible Head with my Echo. I can already see the fireworks.