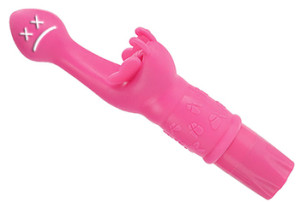 I get a lot of questions about buying new sex toys, but what about any old toys that have reached the end of their life? Vibrators, like other electronics, shouldn't just be thrown out like regular trash, and you don't want your old dildos sitting out in a landfill — or even worse, in some poor animal's digestive system. So what can you do with them?
You could, of course, drop them off at your local electrical waste collection/recycling facilities. Or you could send them off to one of these awesome companies who will reward you with sweet, sweet credit towards new, better toys!
USA: Send your toys to Portland-based sex toy retailer Scarlet Girl, who will have them "broken down and properly recycled at facilities regulated by OSHA and the EP." In exchange, you'll get $10 credit in their online shop!
UK: Sex toy behemoth Lovehoney have their Rabbit Amnesty Program, where you can send them your old vibrators (or any electronics!) for recycling, and they'll donate 50p to a green charity and give you points that you can collect and redeem for toys, lube, and other sexy goodies.
Canada: Toronto's co-operative sex shop Come As You Are will take and recycle any silicone sex toys you've got, and they'll hook you up with a 15% coupon towards any future purchase online or in-store!
Let's all make an effort to be environmentally conscious, in masturbation and all other areas of our lives.